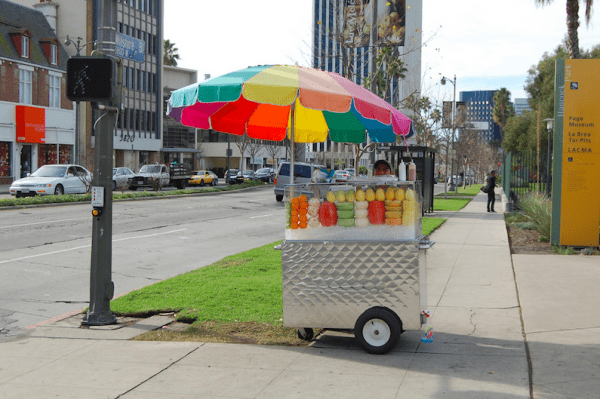 Soon — maybe as soon as this coming weekend — you'll be able to buy tacos on the sidewalk in West Hollywood. And perhaps a dog or a cat.
The West Hollywood City Council is being asked on Monday to revise the city's sidewalk vending laws to bring them into compliance with SB 946, a bill that decriminalizes sidewalk vending that was put forward by Sen. Ricardo Lara (D-Bell Gardens) and signed into law last November by Gov. Jerry Brown.
"With Senate Bill 946 we can start seeing sidewalk vendors for who they are – women and seniors, single
parents, and micro-business owners taking that first step to starting their own business," Lara said after Brown signed the bill into law. "Governor Brown's signature validates that thousands of sidewalk vendors are an important part of our economy, whose hard work supports their families and gives California its unique flavor."
"Last year activists were galvanized when a woman in Rancho Cucamonga was arrested and detained by immigration authorities for selling corn in a city park," states a memo to the City Council from the city's Department of Public Works explaining the background of SB 946. "To avoid state complicity in the federal deportation of individuals for infractions and misdemeanors, SB 946 prohibits California cities from criminalizing sidewalk vending violations.
"Rather, state law now sets forth a mandated schedule of administrative fines as the only permissible penalty for vending violations and also requires local authorities to consider a person's ability to pay when assessing fines."
The memo notes that "the new law was enacted to promote entrepreneurship and to provide economic development opportunities for immigrant and low-income communities. The Legislature found that sidewalk vending increases access to desired goods (such as culturally significant food and merchandise) and contributes to safe and dynamic public spaces. State lawmakers also sought to take a stand against aggressive federal immigration policies that prioritized the deportation of persons charged with minor offenses, including violation of local street vending ordinances. "
The city will be permitted to regulate to some degree sidewalk vendors – defined as someone who sells food or merchandise from a pushcart, a stand, or even from one's person on a public sidewalk or another pedestrian path. The relaxed regulations don't apply to food trucks.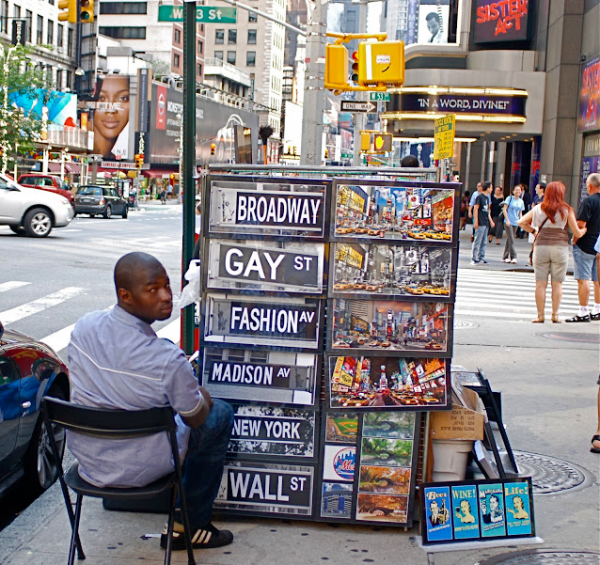 According to the Public Works Department memo:
— In general, a city may not restrict sidewalk vending in the public right-of-way or restrict the overall number of vendors permitted to operate within the city unless the restriction is "directly related to objective health, safety, or welfare concerns. For example, a city may restrict vending at a location that could not accommodate both the activity and the minimum pedestrian clearance required by objective state and federal disability access standards.
— The city can bar sidewalk vendors from operating within one block from school grounds when school is open to students. The proposed ordinance also will restrict sidewalk vending during exceptionally busy times in areas with a high concentration of night-life venues, such as along Santa Monica Boulevard between Robertson Boulevard and Palm Avenue, between the hours of 10 p.m. and 2 a.m.
— For reasons of public safety, the proposed ordinance also restricts sidewalk vending within 25 feet of any on-street valet loading zone and prohibits vendors from operating within 200 feet of another sidewalk vendor to avoid congestion and to maintain adequate pedestrian access to the public right-of-way.
— "Perceived community animus or economic competition" cannot be a reason for barring a sidewalk vendor. "The city also cannot require sidewalk vendors to obtain the consent or approval of residents or local businesses before being permitted to operate."
— The city may require sidewalk vendors to obtain a local license before engaging in the activity. Food vendors also will have to comply with state health and safety and permit requirements.
— There will be a distinction between stationary sidewalk vendors (vendors permitted to operate from a fixed location) and "roaming sidewalk vendors" (vendors who move from location to location, stopping only to complete a transaction).
Stationary vendors can be prohibited from residential zones while roaming vendors may not be prohibited except to meet objective health and safety standards. The city can ban a sidewalk vendor from a public park if it already has granted someone an exclusive concession to sell food or other goods in the park, which the City of West Hollywood has not done.
— The city can prohibit vending within the "immediate vicinity" of a permitted special event, including a certified farmers' market or swap meet, during the limited duration of the event. A sidewalk vendor can never operate within one block of a farmers market such as the Helen Albert Farmers Market at Plummer Park. The Department of Public Works memo is asking the City Council to declare its revision of sidewalk vending regulations an "urgent measure" to accommodate such vendors during one permitted special event — this coming weekend's LA Pride events. An urgency ordinance takes effect immediately upon its adoption by four-fifths of the City Council.
— The city will not require someone applying for a vending permit to show a Social Security number, which would limit undocumented residents from making such applications. Instead, the applicant can show a valid California driver's license or identification number, or an individual taxpayer identification number. The applicant will have to undergo a fingerprint scan and obtain a permit from the L.A. County Public Health Department for food vending.
Consistent with the new state law, permit violations, including sidewalk vending without a permit, will only be punished by an administrative fine, and actual fee assessments will take into consideration a person's ability to pay the fine says the Public Works Department memo.
Under the state law, a violation of the city's vending ordinance is punishable only by a fine of $100 for a first violation, $200 for a second violation, and $500 for each additional violation within one year of the first violation. The city may impose higher fines for vending without a permit: $250 for a first violation, $500 for a second violation, and $1,000 for each additional violation within one year of the first violation. A vendor's failure to pay an administrative fine cannot be punishable as an infraction or misdemeanor, and no additional fines, fees, or assessments can be levied against the vendor.
SB 946 requires the city take into account the vendor's ability to pay the fine. If a person meets certain criteria, the city must accept payment of only 20% of the fine and can allow the person to complete community service in lieu of paying a fine.
The City Council will consider the proposal at its meeting on Monday at the City Council Chambers at 625 N. San Vicente Blvd. south of Santa Monica. Free parking is available in the adjacent five-story structure with a ticket validated in the lobby.