WEHOville is reviving "Ask a Gay," a regular feature where editor and publisher Henry E. (Hank) Scott tries to answer questions about gay life that the 60% of West Hollywood residents who are straight don't have the nerve to ask their gay friends and neighbors. If you have questions you can't bring yourself to ask your gay friends and neighbors, send them to Henry@WEHOville.com.
Dear Hank:
I was at a party the other night and overheard two gay men in their early 30s talking about the boyfriend of one of them. One guy said to the other: "So how's the relationship going with daddy?" Apparently he was referring to the other guy's boyfriend, who was at the party and appeared to be in his mid-50s. Daddy? Isn't that a creepy, and maybe perverse, way for someone to refer to his boyfriend? It conjures up images of incest and pedophilia. My husband is five years younger than me, and if he ever called me "mommy" I'd put a diaper on him and kick him to the curb.
Just call me Mommy Dearest
Dear Mommy:
Mommy! That does feel strange! I don't think I even called my own mother Mommy when I was a kid. But then she was a bit of an authoritarian (she loved "Mommy Dearest").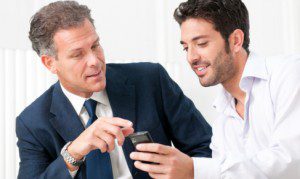 The "daddy" phenomenon isn't that unusual, no matter one's sexual orientation. After all, I'm sure you know that (rich) straight men sometimes end up in relationships with much younger women, usually after they've sent the kids to college and ditched the wife who worked like a dog to keep things together in the early years. The examples are legion: Doug Hutchison, who at 51 married Courtney Stodden, the then 16-year-old reality show star and occasional pole dancer;Playboy founder Hugh Hefner, who several years ago, at the age of 86, married 26-year-old Crystal Harris (she said she wanted to snag the old man before another girl got him); and of course there's J. Howard Marshall, the business magnate, who at 80 married the late, if not lamented, Anna Nicole Smith, who at the time was only 18.
In gay life, the so-called "daddy/son" or "daddy/boi" relationship really has no connection with incest or pedophilia. There are "bois" or "sons" in their 40s with "daddies" in their 60s. "Daddies" are those men attracted to younger guys who they want to mentor and support emotionally (and sometimes financially — a "sugar daddy"). Of course there's also the aspect of sexual attraction, at least for the older guys, who are more likely to be smitten by well-defined abs than wise wrinkles. There's a significant minority of young gay guys who are seeking older partners, witness the popularity of websites such as Daddyhunt and its related telephone app, Mister.
It's a relationship that certainly can have its difficulties. Just ask underwear designer Calvin Klein, 74, who a few years agobroke up with porn star and reality-star wannabe Nick Gruber, now 27. Gruber, who claims that Klein forced him to take a lie detector test to prove he wasn't cheating on him, wrotea book about the relationship. He then moved forward with a new "daddy," John Luciano, nephew of the mobster Lucky, who saidthe toughest thing about dating Gruber is "pulling down his pants and his ex-boyfriend's name is staring you right in the face."
As an older gay guy who's often called "daddy," I've found it's important to set age limits. My formula? Never date a guy younger than my age divided by two plus one year (example: If you're 50, the cutoff is 26). I give extra credit (i.e. accept younger guys) for military service, a graduate degree or the ability to speak two or more foreign languages. And by the way, I'm single!
(Daddy) Hank
Questions you can't bring yourself to ask your gay friends and neighbors? Send them toHenry@WEHOville.com.