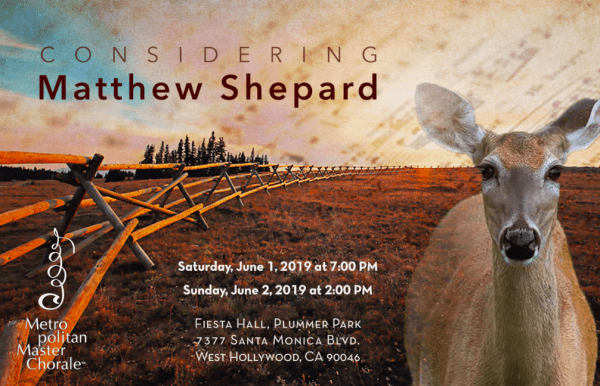 The Metropolitan Master Chorale will perform the oratorio "Considering Matthew Shepard" on Saturday at 7 p.m. and Sunday at 2 p.m. at Fiesta Hall at Plummer Park.
The Chorale, which is celebrating its 10th anniversary, was founded to present choral music in a variety of styles and genres. Focused on "Six Centuries of Music," the Chorale says that its mission is to celebrate the diversity of choral music, promote artistic excellence. It's performance on Saturday will include 60 singers and 25 soloists.
Matthew Shepard was a young gay student at the University of Wyoming in Laramie who in October 1998 was found severely beaten and left tied to a fence. He died five days after being hospitalized.
LGBT rights organizations at the time used Shepard's death to raise national and international awareness of hate crimes and pushed for legislation at the state and federal levels. The City of West Hollywood established a Matthew Shepard memorial at the intersection of Santa Monica Boulevard and Crescent Heights. In Oct. 28, 2009, President Barack Obama signed into law the Matthew Shepard and James Byrd Jr. Hate Crimes Prevention Act (commonly the "Matthew Shepard Act" or "Shepard/Byrd Act").
Aaron McKinney and Russell Henderson were arrested shortly after Shepard's death and were charged and convicted of first-degree murder.  Both are serving life sentences.  However, subsequence evidence has revealed that it was unlikely that Shepard's sexual orientation provoked his murder.  "The Book of Matt: Hidden Truths About the Murder of Matthew Shepard," a book by journalist Stephen Jimenez that was published in September 2013, unearths evidence from those close to Shepard, McKinney, and Henderson and the prosecutor that Shepard and McKinney had been occasional sex partners and that both were methamphetamine dealers.
West Hollywood Mayor John D'Amico will provide an official welcome to the event.   Which is part of the City of West Hollywood's One City One Pride series of events running through June. A conversation with the artistic director and conductor Glenn Carlos will be held immediately following the Sunday performance on June 2.
Tickets, which range from $5 to $35, can be purchased online.