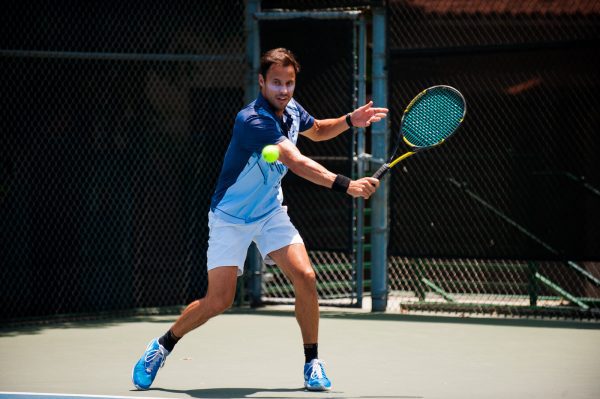 The City of West Hollywood will host its fifth  WeHo Pride Tennis Tournament — a United States Tennis Association (USTA) sanctioned tournament – on Saturday, June 1.
The WeHo Pride Tennis Tournament will begin at 9 a.m. on Saturday at Plummer Park's tennis courts, located at 7377 Santa Monica Blvd. The tournament will include singles open to all, and doubles open to same-gender duos.
There will be an open house and free tennis clinics for kids and adults on Sunday from 10 a.m. to noon hosted by iTennis. A participant reception will immediately follow the clinics.
The USTA made history in January 2015 by adding same-gender couples doubles tournaments to its sanctioned list of competitive events in its popular adult division; prior to that, adult family doubles teams were husband-and-wife teams.
The WeHo Pride Tennis Tournament is organized by the city's Recreation Services Division and the city's tennis partner, iTennis, which offers a diverse range of tennis programming. Tennis courts are a feature of two public parks in the city: Plummer Park has seven lighted tennis courts and a small pro-shop where tennis-related services are offered to the community, and West Hollywood Park, located at 647 N. San Vicente Blvd., has three lighted tennis courts on the rooftop of its five-story public parking structure.
The tournament takes place during the city's One City One Pride festival, which runs for 40 days.  It opened on May 22 in celebration of Harvey Milk Day and it runs through June 30, which marks the end of Pride month. A complete list of One City One Pride events is available online at www.weho.org/pride. The WeHo Pride Tennis Tournament takes place one week before the annual LA Pride in West Hollywood celebration. More information about Pride events can be found at www.lapride.org.
For more information on how to register for the WeHo Pride Tennis Tournament, visit www.itennisweho.com or call the iTennis pro shop at (323) 450-7560. People who are deaf or hard of hearing can call TTY (323) 848-6496.