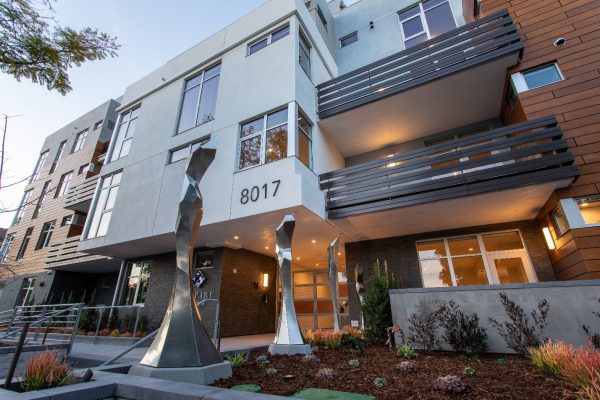 California modernism has a new home in West Hollywood. Empire Property Group's latest project, Empire at Norton, includes two distinct art installations. The more public of the two, created by artist Heath Satow, is a series of abstract sculptural forms that line the path to the property's entryway. The second, by Rome-based artist UNO, is a vibrant mural that comes to life on the expansive rooftop terrace and is visible from some aerial vantage points.
"We've always been champions of sustainable design, and there's nothing more sustainable or relevant than public art," says Craig Berberian, founder and managing partner at Empire Property Group. "Each work is a piece of the building's personality and story, and we're thankful to both
artists who created them."
The rooftop and entry art installations are studies in modernism. Titled "The Gallery," Satow's abstract forms beckon and invite passersby, anchoring the entryway and evoking a sense of grandness and arrival. "In Europe, the larger established 'great estates' create a journey experience for guest arrival; such as identical trees symmetrically repeated along a path, frequently interspersed with classical statues. This is the feeling I seek to evoke with a clean and contemporary interpretation," Satow said.
Varying in size and shape, the figures' highly polished stainless steel finish reflects color and movement for maximum visual appeal.
"Camouflage 90046" is mural punctuating the contemporary, neutral backdrop of Empire at Norton's rooftop lounge with juxtaposition of strong graphics and vibrant colorways against a modern gray backdrop. Known for his unique and playful origami-style work, artist UNO completed the installation in just three days under unfavorable weather conditions.
Empire at Norton is located at 8017 Norton Ave. at Crescent Heights Boulevard.