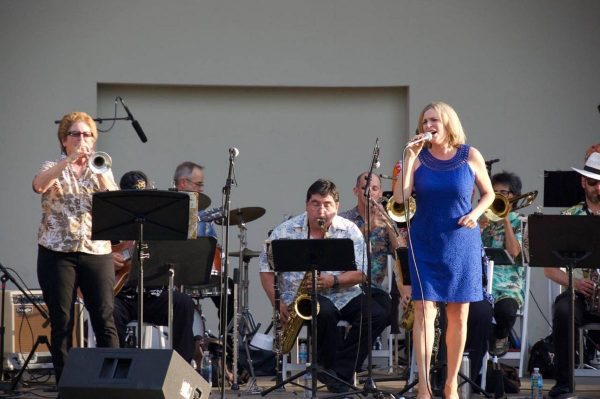 West Hollywood's 2019 Summer Sounds series will begin on June 23 at 5 p.m. at Plummer Park, located at 7377 Santa Monica Blvd., with The Great American Swing Band, a 15-piece band with a repertoire that includes standards, swing, big band, jazz, and rock.
It is the first of a series of outdoor music concerts will take place on selected Sunday evenings at 5 p.m. between June 23 Sept.15 in open-air spaces at public parks in West Hollywood.
The next concert in the series will feature the "funky soul-steeped presence" of Martin Luther McCoy on July 21 at 5 p.m. at Plummer Park. An actor, guitarist, singer/songwriter, producer, soulman, and San Francisco native McCoy is described as "an essential catalyst on the Bay Area's fertile 1990s neo-soul scene. He is best known for his work with The Roots. Many others discovered him through his performance starring in Julie Taymor's 2007 film "Across the Universe." RSVP for this free concert online at https://summersounds-july2019.eventbrite.com.
            Pianist Matt Politano will perform at 5 p.m. on Aug. 18 at Kings Road Park, 1000 N. Kings Rd. A Manhattan School of Music graduate, Politrano is described as a "transcendental improviser (who) explores music with artistry and imagination while showing deep respect for the beauty of a melody." RSVP for this free concert online at https://summersounds-aug2019.eventbrite.com.
Closing out the Summer Sounds series will be a performance by Los Angeles native Jimetta Rose on Sept. 15, at 5 p.m. at Kings Road Park. Rose "draws inspiration from jazz, R&B, and hip-hop and (infuses) her performances with her poetry and spiritual insights," says an announcement of the event.  RSVP for this free concert online at https://summersounds-sep2019.eventbrite.com
The 2019 Summer Sounds free outdoor concert series is organized by the city's Arts Division.. Limited first-come, first-served seating will be available, and attendees are welcome to bring picnics and picnic blankets. Additional information and music samples from each of the featured performers is available online.