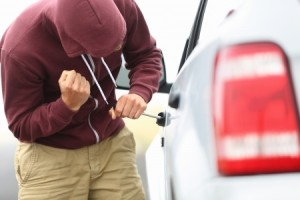 There were 13 car break-ins or thefts from cars reported to the West Hollywood Sheriff's Station between April 1 and April 7 according to a list of serious (Part I) crimes released by the station. Among the crimes was a break-in on April 3 at
Bikes and Hikes LA, the shop at 8250 Santa Monica Blvd. that has been plagued by thefts. What follows is a list of all Part I with case numbers included.
Crime Mapping, a website that allows you to track both serious and not so serious crimes throughout West Hollywood, using data provided by the LA County Sheriff's Department, can be accessed here.
April 1
Nothing significant to report.
April 2
Vehicle Burglary. Ogden Drive / Santa Monica Boulevard between 7:04 and 7:10 a.m. An unknown suspect smashed the front passenger's side window and removed property from the front floorboard. #02091
Vehicle Burglary. 8700 block Sunset Boulevard between 8:30 and 9:40 p.m. An unknown suspect smashed the rear driver's side window and removed property from the back seat. #02094
Vehicle Burglary. 8700 block Melrose Avenue between 10:45 p.m. and 12:40 a.m. An unknown suspect smashed the rear passenger's side window and removed property from the back seat. #02096
Vehicle Burglary. 8400 block Sunset Boulevard between 9 p.m. and 12:11 a.m. An unknown suspect smashed the rear passenger's side window and removed property from the backseat. #02101
April 3
Other Burglary. 8200 block Santa Monica Boulevard at 5:28 a.m. An unknown suspect smashed the front glass door with a rock to gain entry and removed a bicycle from a display area. #02098
Vehicle Burglary. 8500 block Santa Monica Boulevard between 9:50 and 10:25 p.m.An unknown suspect smashed the rear driver's side window and removed property from the back seat. #02117
Vehicle Burglary. 600 block La Peer Drive between 11:32 p.m. and 12:02 a.m. An unknown suspect smashed the front passenger's side window and removed property from the back seat. #02122
Vehicle Burglary. 1000 block Orange Grove Avenue between 7:30 p.m. and 7 a.m. An unknown suspect smashed the rear passenger's side window and removed property from the rear floorboard. #02149
April 4
Aggravated Assault – Gun. Kings Road / Sunset Boulevard at 1:30 p.m. While seated in his car, a man pointed a handgun at the victim during a road rage incident. The suspect fled the area in his vehicle. #02133
April 5
Other Burglary. 8600 block Melrose Avenue at 3:25 a.m. An unknown suspect pried the front door open to gain entry and removed cash from two cash registers and two bottles of alcohol. #02163
Vehicle Burglary. 7200 block Santa Monica Boulevard between 9:30 p.m. and 2:30 a.m. An unknown suspect smashed the front passenger's side window and searched the center console but did not take anything. #02179
Vehicle Burglary. 1100 block Orange Grove Avenue between 11:30 p.m. and 8 a.m. An unknown suspect smashed the front passenger's side window and removed property from the front seat. #02185
April 6
Aggravated Assault – Knife. 600 block Robertson Boulevard at 2:36 a.m. A man was stabbed three times during a fight inside the club. #02178
Grand Theft. 8500 block Melrose Avenue at 5:22 p.m. A man cut the security cord and removed a purse from a display area. #02191
Vehicle Burglary. Ogden Avenue / Santa Monica Boulevard between 3 and 7 a.m. An unknown suspect smashed the front passenger's side window and removed property from the back seat. #02184
Vehicle Burglary. 1200 block Fuller Avenue between 10 p.m. and 12:10 a.m. An unknown suspect removed property from the interior of the vehicle. No sign of forced entry. #02213
April 7
Grand Theft. 8800 block Santa Monica Boulevard between 1:55 and 2:10 a.m. An unknown suspect removed a cell phone from the victim's purse while on the dance floor. #02207
Grand Theft. 8800 block Santa Monica Boulevard between 2:30 and 2:50 p.m. An unknown suspect removed a cell phone from the victim's jacket while inside the club. #02208
Grand Theft. 1200 block North Fuller Avenue between 3 p.m. and 9:20 a.m. An unknown suspect removed clothing and sunglasses from the back seat and trunk of the unlocked vehicle. #02211
Vehicle Burglary. 7800 block Santa Monica Boulevard between 10 p.m. and 7 a.m. An unknown suspect smashed the front passenger's side window and removed property from the front seat. #02238