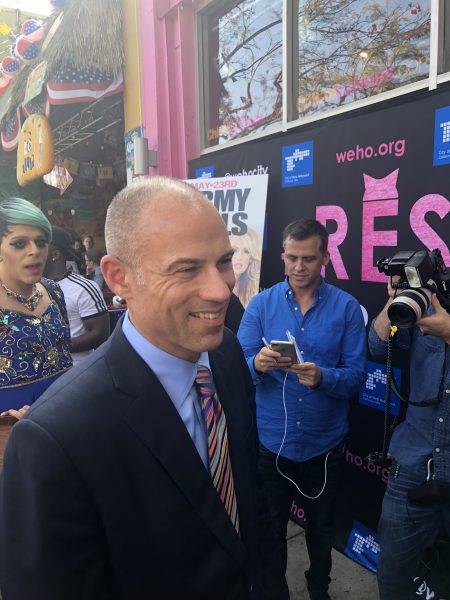 They sure know how to pick 'em!
But while some of our City Council members have welcomed him to WeHo with open arms on three occasions, at least none of them has (yet)
declared a "Michael Avenatti Day."
Avenatti is/was the lawyer who represented stripper and porn performer Stormy Daniels (remember West Hollywood's "Stormy Daniels Day"?) in her unsuccessful lawsuits against President Donald Trump. In October of last year, a federal judge dismissed the defamation lawsuit and said Daniels would have to pay Trump's as-yet-undisclosed legal bills.
Luckily for Stormy, it seems Avenatti has (or had?) the money to cover that. He was just indicted on 36 counts of fraud, perjury, failure to pay taxes, embezzlement and other financial crimes in which he allegedly raked in millions.
The Los Angeles Times reports that "Avenatti stole millions of dollars from five clients and used a tangled web of shell companies and bank accounts to cover up the theft, the Santa Ana grand jury alleged in an indictment that prosecutors made public Thursday."
Among those he allegedly ripped off was a mentally ill paraplegic, who never received the $4 million lawsuit settlement Avenatti negotiated. Then there was that client who didn't receive the $2.75 million settlement he was owed, $2.5 million of which Avenatti allegedly used to buy a private jet.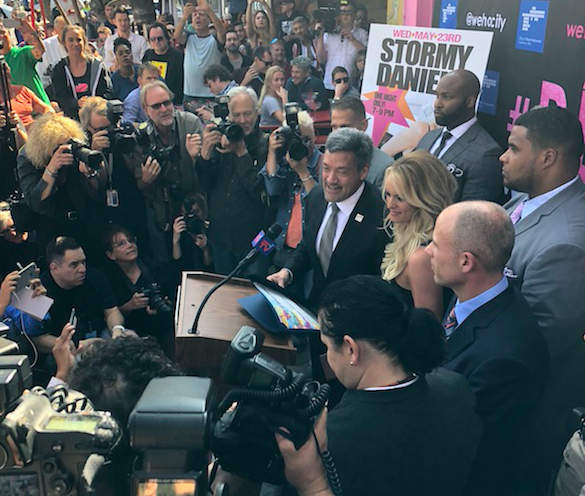 The City of West Hollywood entertained Avenatti on May 23 when he joined Stormy Daniels for a celebration of what Mayor John Duran declared "Stormy Daniels Day" on the sidewalk outside an adult sex store on Santa Monica Boulevard. She received a proclamation from then Mayor Duran and the key to the city from Councilmember John D'Amico. The City of West Hollywood received national if not international media coverage, not all of it promoting the city as some of us would like to be seen.
"You two were absolutely giddy," lesbian activist Ivy Bottini said to Duran and D'Amico in one of a number of criticisms of the event. "You were like 12-year-olds. Did you have fantasies?"
Then on July 26, Duran invited Avenatti back to WeHo to participate in a panel entitled "An Update on Washington D.C. Politics: the Mueller Investigation, Human Rights and Immigration, and the Future of Resistance." Avenatti took time then to say he was thinking of running for President of the United States, which would have added a hilarious second season to the reality TV show that is the White House of today.
And on July 31, Avenatti was featured on a panel moderated by Duran about Trump's zero-tolerance immigration policies, where opening remarks were delivered by Duran and D'Amico.
So West Hollywood is associated by some with Stormy Daniels and also with Michael Avenatti, whose infamy continues to grow. What's wrong with that?Nothing if you're a City Council member with an obsession for national recognition. After all, as the saying goes, "Any publicity is good publicity so long as they spell your name right and it doesn't involve sex with children."
But if you're elected to local office and really have the city's welfare and reputation at heart, maybe it's better to focus on local issues, keeping your head bent down over those thick documents on the City Council dais rather than keeping it lifted up to look into TV cameras. Maybe, rather than have the City Council vet which films the Arts Division can screen, the city's Public Information Office should be vetting who City Council members invite to public events.
And when it comes to issues to focus on, maybe, as Larry Block, West Hollywood's unofficial rabble-rouser, likes to say: It's time to "think local!"