The censure of John Duran at the City Council meeting on Monday night is pretty much inevitable. Given the mood of the community as reflected in the recent election, I don't see any Council member opposing the motion. While the censure may represent the end of a long process of bringing Duran to account, it also represents a sad culmination of decades of Duran's stage presence in the gay rights movement. But the city's espousal of "progressive values" is undercut when the Council refuses to embrace the basic moral values that underpin the progressive agenda. One does not exist without the other.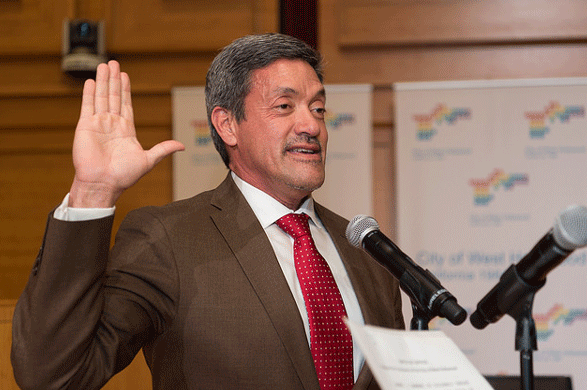 Even getting it to the Council thus far has been a battle, and scheduling the censure motion on the Council's agenda was very much a touch and go affair. The City Council dreads having to censure a colleague who will remain a colleague for another two years. But the situation is already toxic, and to fail to bring a censure would simply be another enabling act by a Council that has spinelessly allowed Duran to flaunt accepted rules of adult behavior for years. The most obvious resolution to the problem would be for Duran to resign, but that is not going to happen.
Duran's refusal to resign, while in many ways understandable, leaves him as something of a cancerous growth on West Hollywood's body politic. His Council colleagues' feared provoking additional media coverage by holding the censure vote. While the censure motion may be a bitter cup for the City Council, it is part of the process to allow the city to move forward and put this behind us.
While the censure motion is reflective of Thomas Jefferson's indictment of George III in the Declaration of Independence, for legal and political reasons it pulls many of its most powerful punches. But even in its current form the motion reflects a level of dysfunction that should have been confronted long ago. Even as West Hollywood proclaimed itself the epicenter of the Resistance, we harbored a Trump-like figure at City Hall, a narcissist who is a corrupt, misogynist, sexual predator.
As a community we have paid a very high price for John Duran's career on the City Council, which cannot be quantified by the $500,000 paid to settle the Ian Owens sexual harassment case.
So many episodes spring to mind. In the 2013 election Duran was challenged by a young openly gay Sheriffs deputy, Chris Landovazzo. Duran was caught tearing down Chris' campaign signs, but the City Attorney refused to get involved. Duran called a member of the Gay and Lesbian Advisory Board who had endorsed Chris, threatening to have him removed from the board. That young man came to a City Council meeting, reported the threat and resigned. Not a single member of the City Council raised a concern about this incident, which reflects how one toxic Council member can morally compromise the rest.
We witnessed how developers who were generous with the Gay Mens Chorus obtained special treatment from the city; Duran played a huge role in building West Hollywood's reputation as a "Pay to Play" city. Duran was tight with the owner of the San Vicente Inn and allegedly had a free day pass. When the San Vicente Inn owner purchased two rent-controlled buildings on Hilldale, he used his connection with Duran to obtain permits from the city to remove this rent controlled housing from the market and use it for "extended stay" suites. The buildings were later taken over by Klean. But the bottom line is that, thanks to Duran, tenants lost their homes and West Hollywood lost housing units.
In the mid-90's, John Duran moved to West Hollywood and within a year was running for State Assembly, claiming the gay community "needs a place at the table." But that tune was changed when Sheila Kuehl ran for County Supervisor in 2014 and Duran ran as a spoiler hoping to derail her campaign. When he lost the primary he endorsed her non-gay competitor. So much for fighting for a "place at the table" for the LGBT community. Indeed Duran's misogynist rant when Torie Osborne won the West Hollywood Democratic Club's endorsement for the State Assembly, ("This is bullshit….we are not all lesbians"), still rankles. In any other community his rant would have been the end of his career, but Duran had many enablers, including Los Angeles County Democratic Party Chair Eric Bauman, another openly gay bully and sexual harasser, who was recently ousted as state party chair.
In 2012 Duran was investigated by the L.A. County District Attorney for abuse of his city credit cards. There were $7,000 in charges at restaurants that ultimately the city described as being meals he took with his City Council deputy to review coming City Council agendas. While this sounded like a cover up to many, the charges were dropped and his deputy left Duran's office. That vacancy was fatefully filled by Ian Owens, the young man recruited off Grindr, perhaps while Duran was trolling during a City Council meeting. The rest, as they say, is history.
A recent Los Angeles Times editorial denounced Duran's self serving statements that his predatory behavior simply represented an expression of his gay being; advocating what the Times described as a dangerous double standard for gay men. Back in 1978 my first venture into activism was at a West Hollywood rally opposing the Briggs Initiative, which would have banned gay men from teaching in California schools. State Senator Briggs argued that gay men were unable to control their sexual impulses and therefore were a danger to children. Duran simply echoed those same homophobic tropes in his own defense, saying he was just acting like every other gay man. Duran's cavalier betrayal of our community to save his own skin brings into question his commitment to gay rights. Was he a genuine leader or an opportunist who embraced the cause as a vehicle for his personal self promotion?
But beyond the politics of the censure, West Hollywood yearns to put the Duran dysfunction behind us. Yet that is difficult with John remaining on the Council. He is a part of this community, and no one is advocating his banishment. But if John wer truly a public servant, he might put the public's need for closure first for a change. An apology would allow us to extend him a certain amount of forgiveness; perhaps not enough to re-elect him, but enough to allow us to move on without further rancor. He could serve out his term with dignity.
After the 1999 "Portland Groping Incident," where Councilmember Jeff Prang drunkenly groped, bit and licked a City employee's armpits during an out of town Pride promotional event, Prang ultimately apologized for his "unprofessional conduct." That humility gave the public a chance to forgive him. It worked because it defused his critics and allowed the public's focus to move on. Duran has been undermining that process by provoking his critics and forcing the residents to witness what seems to be an endless stream of embarrassing and tacky incidents. That needs to stop.
If John Duran cannot bring himself to apologize for the sake of the community, perhaps he will take a fierce personal inventory and apologize so that he can move on. His political career is effectively over. Now is the time to salvage what he can of his "legacy" and figure out how he is going to remain in the community and get his professional career back on even keel. No one in the community wishes him ill; we just want this craziness to stop.
Duran should apologize because it is the right thing to do for himself and West Hollywood. It is time that he starts contemplating about what he does with the rest of his life. Once he is off the Council we will wish him well on his new journey and adventures. Indeed we may be able to recall him with a certain amount of affection and remember the times he fought for the good causes and inspired us. But he has to lay the ground work for that to happen, we can't do it for him. Without an apology, the censure will be the sad epithet of his life as an activist and advocate.