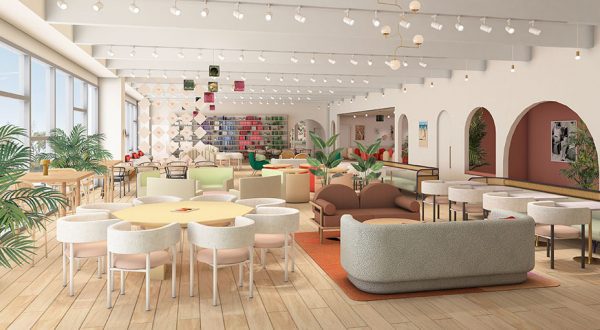 The Wing, a women-only version of the SoHo House that is set to open its first Southern California location in West Hollywood this spring, may actually let men in the door.
The Insider, a news website, has reported that the private club and co-working space for women earlier this year dropped its ban on men as members or guests after facing a $12 million lawsuit from a man claiming gender discrimination. However, the Insider reports that other factors may have been an investigation into the club's sexual discrimination policy by the New York City Commission on Human Rights and concerns about the policy expressed by transgender and non-binary members of the club. "Non-binary" is a term used to describe people who identify as neither male nor female.
The Wing will be one of the tenants in the three-story building under construction at 8550 Santa Monica Blvd., occupying close to 9,000 square feet on the third floor. Because of construction, its opening, originally scheduled for January, was pushed to March 26 and now apparently will be postponed a while longer. The 8550 Santa Monica building will include a Sprouts grocery store, a gym/fitness studio, a restaurant/café and rooftop parking. It is a project of Michael Talla, who owns the building on its west side that houses Capitol Drugs Pharmacy, the LASC clothing store and the 24 Hour Fitness gym.
The Wing was founded in 2016 by Audrey Gelman and Lauren Kassan and currently has locations in Manhattan and Brooklyn in New York City, in Washington, D.C. and in San Francisco. The company is said to have attracted more than $117 million in funding and to have roughly 8,000 members. They include celebrities like Glenn Close, Laura Dern, Lena Dunham, Jennifer Lawrence, Chelsea Manning, and Hari Nef, the transgender actress and Gucci model.    It also is the publisher of a magazine titled No Man's Land. Last week The Wing and Time's Up, the women's activist organization, announced that they will work together to stage events to help advance women in the workplace.
"The Wing offers a space focused on impact and creating communities at scale, which is key to empowering women and diversifying new industries. In Los Angeles, The Wing hopes to bring women together from all over the city," said a spokeswoman for The Wing in an email to WEHOville.
"With partnerships already established with key players in the entertainment industry and a slew of celebrity members and supporters part of our community, we want to offer our members creative and thoughtful programming that they would not otherwise have access to outside of our space.
"… With technology companies setting up shop in LA we hope to be a space for entrepreneurs like our founders to come together and grow their own businesses in the technology industry and beyond."
The lawsuit that may have inspired The Wing's relaxation of its membership policy was filed in June 2018 by James Pietrangelo, who was denied membership in The Wings Washington, D.C., location.  Pietrangelo, an attorney known for representing himself in the filing of a number of lawsuits, said he was told that men could not become members.  His lawsuit, filed in federal court in Washington, seeks damages of at least $75,000 and up to $12 million.
Whether Pietrangelo's lawsuit will succeed is unclear. It apparently is based on the District of Columbia's Human Rights Act, which bars public-serving businesses from denying service to people because of their sex or gender identity. Supporters of the lawsuit argue that The Wing is, in effect, a business and not a club because of the array of services it offers.
Also complicating matters is The Wing's claim that on Sept. 24, 2018, it had implemented a membership policy that says "all applicants will be evaluated based on their commitment to The Wing's mission, regardless of their perceived gender identity." The Wing claimed then that it previously had not had any policy relative to gender identification, although the Insider reports that Audrey Gelman said in a TV interview in May of last year that the club was open only to "women, self-identifying women, trans women, and individuals who don't identify of the gender binary. That is our membership policy."  Jezebel reported in March 2018 that the club's membership policy stated that "Men cannot become members or visit as guests."
The Wing also has been criticized for its exclusivity. In his lawsuit, Pietrangelo noted that only 8% of applications for membership in The Wing's clubs were granted. The club's membership fees start at $2,350 a year.
The Wing will be the latest in a series of expensive and exclusive private clubs to open in West Hollywood, a city whose identity has changed dramatically since it was incorporated in 1984 in a campaign to ensure affordable housing and gay rights.  They include the newly opened San Vicente Bungalows, which consist of a portion of the renovated San Vicente Inn at 845 N. San Vicente Blvd., and the SoHo House at 9200 Sunset Blvd., which opened 10 years ago.  Then there is the Arts Club, a members-only club planned for 8920 Sunset Blvd. at Hillcrest.  Another project in the works is AllBright West Hollywood, a private membership club exclusively for working women that plans to open at 8474 Melrose Place early next summer. It will be just outside the city limits.
The members-only clubs will be pricey. Annual fees at AllBright will be $2,100 ($1,100 for women 29 and under), with a $300 initiation fee. Membership at the San Vicente Bungalows costs $4,200 a year, or $1,800 for those 35 and under. The initiation fee will be $1,800 (only $500 for those 40 and under). (One must be invited in order to apply for membership to the San Vicente Bungalows).
The SoHo House is said to charge $2,000 annually or $2,800 for access to all of its clubs around the world. It's not clear what the Arts Club will charge, but in London a membership in the club for artists and writers and other creatives is the equivalent of $2,558 in U.S. dollars as is the initiation fee. SoHo House, the Arts Club and AllBright all are offshoots of clubs based in London.