Ten car break-ins were reported to the West Hollywood Sheriff's station between March 11 and March 17 in a week otherwise light on crime. What follows is a list of all Part I (serious) crimes reported in West Hollywood during that period, with case numbers included.
Crime Mapping, a website that allows you to track both serious and not so serious crimes throughout West Hollywood, using data provided by the LA County Sherff's Department, can be accessed here.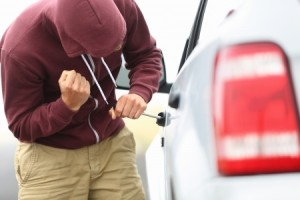 March 11
Grand Theft . 8400 block Sunset Blvd at 3 a.m. An unknown suspect removed a travel bag that was left momentarily unattended on the sidewalk. #01707
Residential Burglary (Suspect Arrested). 900 block Palm Avenue between 2 and 8 a.m. A man used force on the front door to gain entry and removed property from the living room. The suspect committed another burglary at the apartment next door in which he used force on the front door and removed property from the living room and a vehicle key. The suspect used the key to steal a vehicle from the parking garage. The suspect was arrested by deputies on 03/14/2018 and the vehicle was recovered. #01575, #01576
March 12
Nothing significant to report.
March 13
Strong Arm Robbery . 8600 block Santa Monica Blvd at 8:50 p.m. A man was standing on the sidewalk when two men grabbed his bags, pushed him, and ran northbound on Westbourne Drive. Both suspects fled the area in a vehicle that was parked nearby. #01628
Vehicle Burglary. 1100 block Fuller Avenue at some time from 6 p.m. March 13 to 1 p.m. March 14. An unknown suspect ransacked the interior and removed property from the backseat. No sign of forced entry. #01643
March 14
Aggravated Assault – Hands, Fist, Feet. 8300 block Sunset Blvd at 2:22 p.m. A man working as an Uber driver was involved in a dispute with two passengers. The victim was punched and kicked multiple time by both suspects before they fled the area on foot. #01639
Grand Theft (Suspect Arrested). 7100 block Santa Monica Blvd at 3:33 p.m. A man removed 26 packages of razors and a six-pack of beer and left the store without payment. The suspect was detained by store security and arrested by responding deputies. #01642
Armed Robbery (Attempted) (Suspect Arrested). Sweetzer Avenue / Santa Monica Blvd at 3 p.m. A man was walking on the sidewalk when he was confronted by a man that he recognized from a previous incident. The suspect demanded money and threatened to shoot the victim if he did not comply. The suspect reached into a bag he was carrying as if he was reaching for a gun and the victim ran away. The suspect was arrested by responding deputies. #01640
March 15
Vehicle Burglary. 1100 block Poinsettia Place from 7 p.m. to 7:30 a.m. An unknown suspect smashed the front and rear passenger's side windows and removed property from the interior. #01701
Vehicle Burglary. Edinburgh Avenue / Santa Monica Blvd between 8:30 p.m. and 7:53 a.m. An unknown suspect smashed the front passenger's side window and removed property the passenger's side door storage area. #01704
Vehicle Burglary. 1100 block Poinsettia Place between 5 p.m. and 10:10 a.m. An unknown suspect smashed the front passenger's side window and ransacked the interior but did not take anything. #01706
Vehicle Burglary. 1100 block Poinsettia Place between 8 p.m. and 9 a.m. An unknown suspect smashed the front passenger's side window and searched the glove box and center console but did not take anything. #01709
Vehicle Burglary. 1200 block Laurel Avenue between 10:15 p.m. and noon. An unknown suspect smashed the front passenger's side window and removed property from the front floorboard. #01710
March 16
Grand Theft. 7100 block Santa Monica Blvd between 7:47 and 8:14 p.m. An unknown suspect removed a cell phone that was left momentarily unattended. #01719
Grand Theft. 8200 block Santa Monica Blvd 9:50 p.m. An unknown suspect removed a purse containing a wallet that was left momentarily unattended on the bar top. #01723
Vehicle Burglary. 1300 block North Laurel Avenue at 4:55 a.m. An unknown suspect smashed the rear windshield and removed property from the back seat. #01698
Vehicle Burglary. Edinburgh Avenue / Santa Monica Blvd between 12:30 and 8:30 a.m. An unknown suspect smashed the front passenger's side window and removed property from the passenger's side door storage area and trunk. #01705
March 17
Armed Robbery. 7100 block Santa Monica Blvd at 6:45 p.m. A man and a women removed a backpack from a display area, filled it with clothing items and left the store without payment. When confronted by store security, the suspect swung his skateboard and hit the victim. The suspect dropped the backpack and fled the area on foot. #01746
Vehicle Burglary. 8200 block Sunset Blvd between 10 and 11 p.mAn unknown suspect smashed the middle passenger's side van window and removed property from the back seat and rear floorboard. #01751
Vehicle Burglary. 8400 block West Sunset Blvd between 11:05 and 11:35 p.m. An unknown suspect smashed the rear driver's side window and removed property from the front floorboard. #01753