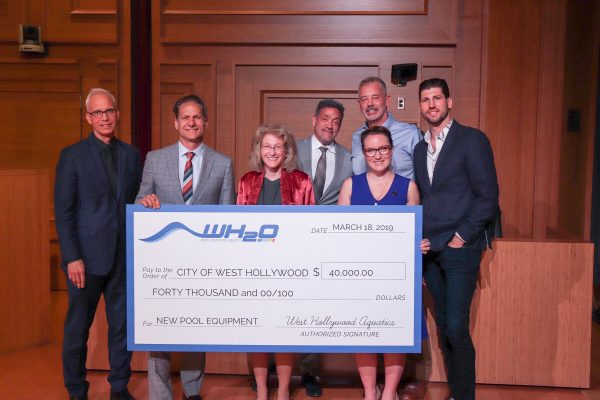 At Monday night's City Council meeting, West Hollywood Aquatics – the world's first LGBTQ swim team – presented the City of West Hollywood with a check for $40,000. This donation from West Hollywood Aquatics will cover the costs of a timing system/scoreboard and disability lifts for the new pool in West Hollywood Park, scheduled to be open in 2020.
"West Hollywood Aquatics is committed to giving back to the community that we call home and we are thrilled to partner with the City of West Hollywood to ensure that the state-of-the-art facility is fully equipped on the day it opens," WHA said in an announcement of
the gift.
"West Hollywood Aquatics has been participating in the process to build the new pool for many years, and this donation from the team shows the Council and City of West Hollywood residents how excited we are to be moving to our new home. This is a project for the entire community and is a win for youth programs, seniors, lap swimmers, masters, and everyone else who loves the water. This is about swimming, water polo, and the entire aquatics community, and we couldn't be more excited."
It is the subject of a documentary titled "Light in the Water," which will be screened at a one-night only event on April 22 at the AMC Theatre at 8000 Sunset Blvd. More information and can be found online and tickets can be purchased online as well.
"Light in the Water" shares the story of West Hollywood Aquatics from its founding in 1982 for the first ever Gay Games in San Francisco, through the AIDS crisis, and up to the present day. A television version of the film premiered on Logo last June and has now screened in over 10 film festivals around the world, including Paris, Glasgow, Kansas and Palm Springs, where in January it was voted "Best of Fest" by audiences.
The screening will be followed by a Q&A with the director, Lis Bartlett, and editor Jim Cude, as well as members of West Hollywood Aquatics.
The film's trailer can be viewed here.