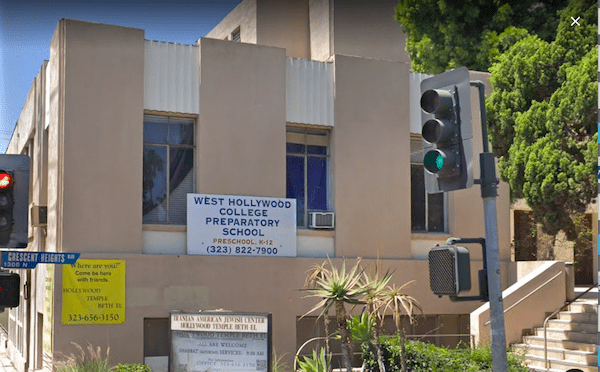 Igor Dvorskiy, director of the West Hollywood College Preparatory School (WHCPS), has been charged with accepting bribes of $10,000 per student to fake their SAT or ACT tests to help them gain admission to prestigious colleges and universities.
Dvorskiy is one of 50 defendants charged with participating in the scheme that allegedly was orchestrated by the Edge College & Career Network, a for-profit college counseling and test preparation business in Newport Beach founded by William Singer, and the Key Worldwide Foundation (KWF), which Singer established as a charitable institution. WHCPS is located in the complex of Temple Beth El at 1317 N. Crescent Heights Blvd. The scheme has gotten attention nationwide given the range of prominent schools involved and the fact that celebrities such as Lori Loughlin and her husband, the fashion designer Mossimo Giannulli, and the actress Felicity Huffman are alleged to have been involved.
A copy of the indictment filed in U.S. District Court in Massachusetts alleges that Singer, Dvorskiy and others arranged for a resident of Palmetto, Fla., named Mark Riddell to take SAT or ACT tests for students whose wealthy parents paid them. Singer also is accused of designating some college applicants as athletes to make them eligible for certain admissions granted only to student athletes. And he is said to have funneled the payments to Dvorskiy and others through his foundation.
"Parents generally paid Singer between $15,000 and $75,000 per test," according to the indictment, which says the payments were purported
donations to the KWF. Singer also allegedly coached parents in claiming their children had learning disabilities, which meant the ACT Inc. and the College Board would grant them extended time to take the tests.
The fake applications were submitted to major colleges and universities such as USC, UCLA, USD, Stanford, Georgetown University, Yale University and Wake Forest University. The indictment alleges that bribes were accepted by employees of those schools. For example, the suit claims that Singer directed payments of $350,000 to a private soccer club controlled by Ali Khosroshahin, USC's women's soccer coach, and Laura Janke, USC's assistant women's soccer coach. They allegedly created fake athletic profiles for applicants seeking admission as athletes. All in all, the suit claims "parents paid Singer approximately $25 million over the period 2011 through February 2019 to bribe coaches and university administrators to designate their children as recruited athletes, or other favored admissions categories…" One parent is said to have paid $1.2 million to get Singer's help in enrolling his child in college.
A bio of Dvorskiy on the WeHo College Prep website describes him as playing "a vital part in the daily and overall functioning of WHCP. Mr. Dvorskiy has been the Director of WHCP for seven years. Prior to this position, he was a teacher for 10 years in several subject areas including: Physical Education, Math, Science, and Computers. Mr. Dvorskiy earned two bachelor's Degrees in engineering and Education in the former Soviet Union."
The suit is seeking $198,000 from Dvorskiy. As of publication, WHCPS has not returned a call from WEHOville seeking comment about the indictment.