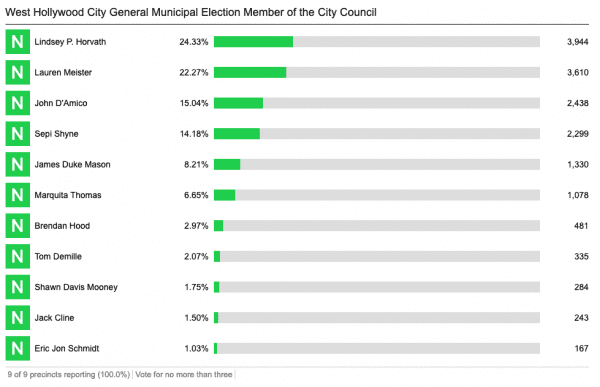 A final tally of votes from the March 5 West Hollywood City Council election shows no change in the winners or the rankings of the unsuccessful challengers.  However, challenger Sepi Shyne edged closer to victory, coming in only 139 votes behind Councilmember John D'Amico.
Councilmember Lindsey Horvath remained in the lead with 3,944 votes (24.33%). She was followed by Councilmember Lauren Meister with 3,610 votes (22.27%) and then D'Amico, with 2,438 votes (15.04%).
In a calculation by the Los Angeles County Registrar on Friday, Shyne, who got the backing of the Unite Here Local 11 hotel and restaurant workers union, which campaigned against D'Amico, was 185 votes behind D'Amico.
James Duke Mason scored 1,330 votes (8.21%) followed by Marquita Thomas with 1,078 votes (6.65%). The March 5 election was Mason's second attempt at a Council seat.
Brendan Hood, who was running for the first time, scored 481 votes (2.97%). Tom Demille, for whom this was the fifth unsuccessful race for City Council, got 335 votes (2.07%). Shawn Davis Mooney got 284 votes (1.75%), followed by Jack Cline with 243 votes (1.5%) and Eric Jon Schmidt with 167 votes (1.03%). Schmidt already has announced that he will run again in November 2020.
There also were no significant changes in the results of votes on Measure B, which affirmed the City Council's decision to grant necessary permits for the Arts Club on Sunset Boulevard at Hilldale. The final total was 3,544 votes (60.3%) in favor of Measure and 2,333 votes (39.7%) in opposition.
Measure Y, which would allow the city to impose a 7.5% sales tax on recreational cannabis, ended up with 4,536 votes (76.31%) in favor and 1,408 in opposition (23.69%).
The final election results are scheduled to be certified by the L.A. County Registrar's Office on March 22, and it is anticipated that the Los Angeles County Board of Supervisors will declare the election concluded on April 2