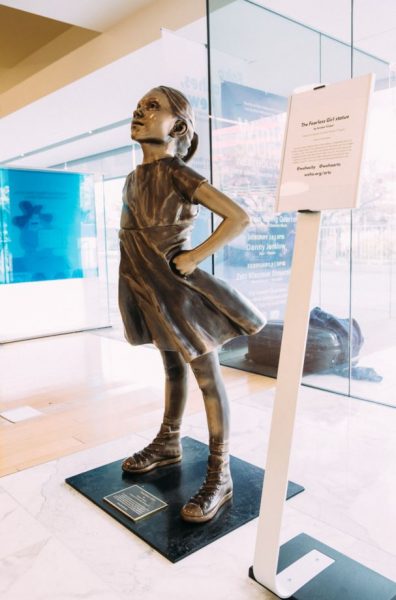 A replica of the original "The Fearless Girl" statue by Kristen Visbal currently is on display at the West Hollywood Library in celebration of Women's History Month, where it will remain until the end of this month. The library is located at 625 N. San Vicente Blvd. Regular library open hours are Monday through Thursday, 11 a.m. to 7 p.m.; Friday and Saturday, 10 a.m. to 6 p.m.; and Sunday, 1 to 5 p.m. The library is closed on March 25, in honor of Cesar Chavez Day.
The statue was installed two years ago on March 7, 2017, which was the day before International Women's Day and just weeks after the historic inaugural worldwide Women's March events. It famously faced the Charging Bull statue by Arturo Di Modica near Wall Street in New York City,
where it immediately became a selfie phenomenon. The statue was commissioned by State Street Global Advisors.