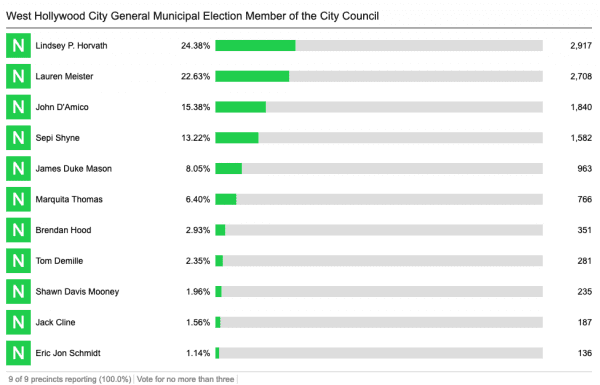 Roughly 16% of West Hollywood's 28,302 registered voters turned out for Tuesday's City Council election, according to the latest update by the L.A. County Registrar-Recorder/County Clerk.  That turnout of 4,575 voters is two percentage points less than the turnout calculated the day after the March 2017 City Council election.
However, that percentage may increase as vote-by-mail ballots (accepted as late as Friday if they were postmarked no later than election day) are counted. The Registrar's Office also will be reviewing provisional ballots, which are ballots completed by people at the wrong polling place. If
the review determines that the voter is an authorized West Hollywood voter, such ballots are counted.
While it's not yet clear how many vote-by-mail ballots will be received by Friday, there were 540 dropped off at polling places on election day that have yet to be counted. There were 324 provisional ballots that must be verified and counted.  The final returns could be swayed somewhat by that total of 864 ballots, each of which could contain votes for as many as three candidates for the three City Council seats, along with yet-to-arrive vote-by-mail ballots.  The Registrar's Office will provide a vote update on Friday.
Final election results are scheduled to be certified by the Registrar's Office on March 22, and it is anticipated that the Los Angeles County Board of Supervisors will declare the election concluded on April 2.
The three newly elected Council members are anticipated to be sworn-in at a regular meeting of the West Hollywood City Council on April 1 at the City Counci meeting.
The returns calculated as of Tuesday night showed incumbent Lindsey Horvath in the lead with 2,917 votes (24.38% of votes cast). Horvath was followed closed by incumbent Lauren Meister with 2,708 votes (22.63% of votes cast).
John D'Amico, running for his third term on the Council, won 1,840 votes, or 15.35% of the total. He was followed by challenger Sepi Shyne, with 1,582 votes (13.22% of the total). Each of the seven other challengers scored between 8.02% and 1.14% of the votes calculated as of Tuesday night.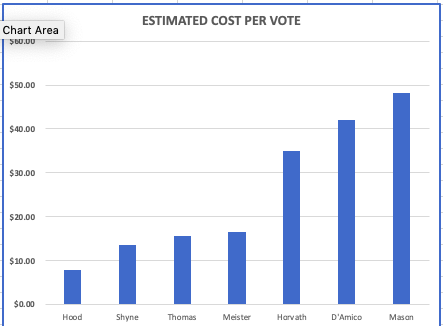 Based on campaign finance reports filed as of Feb. 21, Councilmember Meister's campaign was less expensive per vote than those of the other two winners. As of Feb. 21, Meister had raised $44,896. That's a total of $16.58 per vote, based on the 2,708 votes calculated so far. Councilmember Horvath's votes were a little more than twice as expensive. With $101,930 in donations by Feb. 21, Horvath's 2,917 votes cost $34.94 each. Councilmember D'Amico's $77,200 in donations as of Feb. 21 indicates a cost of $41.96 per vote, well more than twice the cost of Meister's votes.
Duke Mason, whose campaign was his second unsuccessful bid for a Council seat, topped all of the candidates in cost per vote thus far. As of Feb. 21, Mason reported raising $46,480, or $48.27 per each of his 966 vote. Challenger Marquita Thomas raised $12,000, or, $15.67 for each of her 766 votes. Sepi Shyne, who came in in fourth place, raised $21,650, which came out to $13.69 per each of her 1,582 votes. Challenger Brendan Hood raised $2,800, or $7.98 for each of his 351 votes. Candidates Tom Demille, Shawn Davis Mooney, Eric Jon Schmidt and Jack Cline reported no campaign donations.