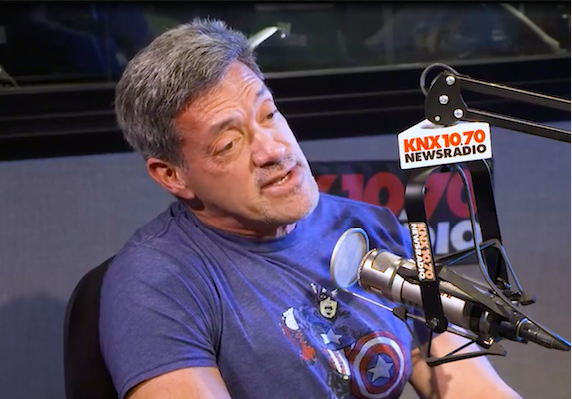 In a radio interview today, Mayor John Duran said the fact that he is the one member of the West Hollywood City Council who has become the focus of allegations of sexual misconduct can be attributed in part to his
popularity and to the fact that he is "the only sexually active member of the City Council."
Duran's interview was conducted this afternoon as part of KNX 10.70's InDepth program by Mike Simpson and  Charles Feldman.  The interview can be accessed as a podcast online.
Duran who is known for listing himself as mayor on social media when he actually isn't holding that rotating title, explained his popularity: "I am the one everyone perceives as the mayor all the time. All the time. No matter who's holding the gavel at any one moment. You ask people in West Hollywood to name the five members of the City Council — most can they can only name one or two. And I'm usually one of the one or two they can name.
"The reality is over the years I've spent 40 years fighting for LGBT rights. That's longer than some of the other council members have been alive."
Duran, also reasoned that he was the subject of allegations of sexual misconduct because "Let's face it. I'm the only, I think, sexually active member of the City Council. I don't want to besmirch my colleagues, but I mean, I don't think any of them are having the level of activity I am."
The pressure to give up his role as mayor and even to resign from the City Council has resulted from  allegations that Duran engaged in sexually inappropriate behavior with three young members of the Gay Men's Chorus of Los Angeles, a non-profit organization whose board he has chaired for years.  Those allegations, reported by WEHOville and the Los Angeles Times, have been published in newspapers across the country and in gay media and have prompted a call for a #MeToo movement to protect young gay men from sexual harassment by their elders. Other allegations have emerged of him calling out his role as mayor of West Hollywood in soliciting sex on Grindr, the gay sex hookup app.
Duran, 59, has denied the GMCLA allegations and says he shouldn't be considered guilty unless a "due process" investigation takes place and confirms the claims. In 2015, Duran also was accused of sexually harassing his former City Council deputy, Ian Owens, which resulted in a payout of $500,000 to settle a lawsuit brought by Owens. Duran denied that accusation as well.
In their interview, Simpson and Feldman pressed Duran to explain why he has refused to step down as the city's mayor, despite calls to do so from City Council members, members of the #MeToo and Black Lives Matter movements, local residents and members of the city's Public Safety Commission and Lesbian and Gay Advisory Board.
Duran said he would not resign as mayor or from the City Council because his fellow Council members were reacting to "something that didn't happen at City Hall. … They are responding and reacting to things that they have read in the media. That's not due process under the law."
Duran said the allegations against him were part of an effort by "a group, or faction within the chorus (that) is trying to take over the leadership of the organization."
A change in leadership has taken place since an allegation about Duran by one young man and a similar allegation against Jonathan Weedman, the executive director of GMCLA, was made public on Jan. 27. On Feb. 15 Weedman announced that he was leaving his position with the Chorus. Duran has claimed in a post on Facebook that the GMCLA board unanimously endorsed him as chair. However, one prominent board member and donor, Ariadne Getty, resigned because of the allegations. And Duran abruptly announced last Tuesday that he had resigned as chair of the GMCLA board, citing the fact that he had been in the hospital for treatment of a blood clot. He said he will remain on the GMCLA board until its season ends in July.
Feldman asked Duran whether he has realized that times have changed, as illustrated by the emergence of the #MeToo movement. He asked Duran if he recognized that certain types of comments can be viewed as sexual assault. Duran acknowledged that and said that GMCLA has in place sexual harassment policies, but that two of his accusers didn't file complaints.
Feldman and Simpson also pressed Duran about whether he realized the impact of his role as a City Council member and the mayor of West Hollywood on the way his behavior is perceived. "Do you realize the distinction between comments you may make in a club and comments you make in a work environment?" Feldman asked. "You are the mayor, whether you are in City Hall or not," Simpson said.
Duran again argued that none of the alleged misbehavior among Chorus members happened at City Hall. "I'm not always the mayor," he said, referring to the fact that the position rotates among Council members each year. "I'm a part time Council member. I don't spend my time at City Hall. In fact, I don't even have an office at City Hall."
The public protests against Duran and the news coverage of the allegations are "not a good look for West Hollywood," Simpson said.
"It's the same 20 people who have been protesting about me for 20 years," Duran responded. "These are not new people. The Black Lives Matter people are angry at me because at one time I represented Ed Buck." Buck, a white political donor, has been accused of being complicit in the deaths of two black men in his Laurel Avenue apartment, both apparently related to drug use. Duran said told Simpson that under the law he can't take more than $500 per city election from Buck, suggesting that claims he benefitted from him financially are untrue. However, state election contribution records show that Duran's various political campaigns have received a total of $14,000 in contributions from Buck.