Joseph Guardarrama, an attorney who lives in West Hollywood and has been active in civic affairs, has been named by Los Angeles Business Journal  as one of the "Most Influential Minority Lawyers" in the L.A. region.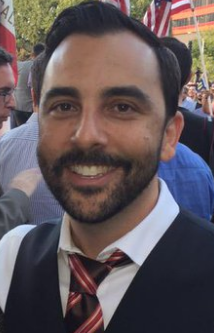 Guardarrama, who is with the Kaufman Legal Group,  brings "a unique blend of private practice experience and service as a public official to the firm's Governmental Ethics, Campaign Finance, and Election Law practices" said an announcement by L.A. Business Journal.
The Journal said its list was created to highlight "particularly stellar minority attorneys in the L.A. region who happen to be from a broad cultural spectrum." The list includes only those considered particularly impactful on the legal scene, "while serving as trusted advisors in the L.A. region, along with maintaining the highest professional and ethical standards, and for contributions to the Los Angeles business and legal community at large."
Kaufman Legal Group specializes in legal services connected to the political process, serving clients such as elected officials, PACs, business groups and labor unions. In his current position, Guardarrama advises candidates, officeholders, political action committees, independent expenditure committees, major donors, lobbyists and corporations regarding all legal aspects of their involvement with the political process at the state and local levels.
Guardarrama also sits on the City of West Hollywood's Ethics Reform Task Force, which has brought forth several recommendations approved by the City Council to improve regulations involving campaign contributions, lobbyists and transparency.
Guardarrama has lived in West Hollywood since 2000. His parents fled Communist Cuba for the United States, with his father opening what became a very successful
Guardarrama served on the city Planning Commission for more than seven years, presiding over Commission meetings as both chair and vice chair. In that role he dealt with complicated land use policy matters such as the creation of a new general plan, the Red Building expansion of the Pacific Design Center and multiple affordable housing developments. Guardarrama also served as a business license commissioner and on the city's Campaign Finance Reform Committee.