Multiple speakers before the West Hollywood City Council tonight raised questions about the investigation by the Los Angeles County Sheriff's Department into the deaths of two black men, apparently from drug overdoses, in the Laurel Avenue apartment of Ed Buck, a white donor to local, state and national Democratic Party candidates.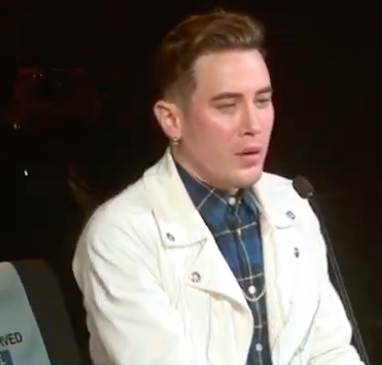 West Seegmiller, who works with Sex Workers Outreach Project, noted that SWOP and the Long Beach and Los Angeles LGBT centers are among the organizations that have expressed concern about the deaths. A coalition of 41 LGBTQ and other groups – including the National Black Justice Coalition, National LGBTQ Task Force and American Civil Liberties Union of Southern California — have called for an aggressive investigation into the deaths.
One of the men, who died in July 2017, was Gemmel Moore, a 26-year-old sex worker. The other was Timothy Dean, 55, who died on Jan. 7. Dean worked at Saks Fifth Avenue in Beverly Hills and also was an adult porn actor. Seegmiller noted that SWOP's LA chapter has issued a statement condemning the stigma against sex workers and calling for protection of them. Another man, Steve Martin, who identified himself as involved with the #MeToo Survivors March International, asked the city to ensure that the same level of resources that would be devoted to an investigation of the deaths of white people would be used in the investigation of the Moore and Dean deaths.
Jerome Kitchen, a friend of Gemmel Moore, angrily complained that no one on the Council and no candidates in the March 5 City Council election had spoken to him after a candidates forum last week at which Kitchen became involved in a verbal altercation with a white man who referred to him in racist words. Kitchen also was critical of what he saw as a lack of action by Council members after the deaths of Moore and Dean.
Councilmember Lindsey Horvath did raise questions about the investigation. She brought up a letter from Jasmyne Cannick, who has represented the mother of Gemmel Moore. In her letter, Cannick noted that a number of young men have agreed to talk about their interactions with Buck if granted partial immunity from prosecution, but that no one from the Sheriff's Department has contacted them. Horvath noted that the Los Angeles County Human Relations Commission and the California Legislative LGBT Caucus have expressed concerns about the deaths.
William Moulder, the acting captain of the West Hollywood Sheriff's Station, told the Council that detectives are reaching out to those willing to offer evidence. He said that L.A. County Sheriff Alex Villanueva has made clear that the department will do a "thorough and objective" investigation into the deaths of Moore and Dean. Moulder said the investigation is being conducted by the department's Homicide Bureau, which is located in its downtown headquarters, and that he is in regular contact with the detective heading the investigation.
Moulder said he also has been in touch with Joanne Campbell, Dean's sister, and has reached out to Jerome Kitchen, a friend of Gemmel Moore, who has spoken out several times in public about the issue, and wants to be in contact with LaTisha Nixon, Moore's mother.
Tom Demille, who is making his fifth run for a seat on the City Council and recently shared a photo of himself in black face, was criticized by Kitchen after he spoke out against what he called "rush to judgement" against Ed Buck and the governor of Virginia, Ralph Northam, who is being pressured to resign after photos were found in his medical school yearbook page showing a man in black face and another in a Ku Klux Klan outfit. Northam has acknowledged that he blackened his face as a young man to perform as Michael Jackson.