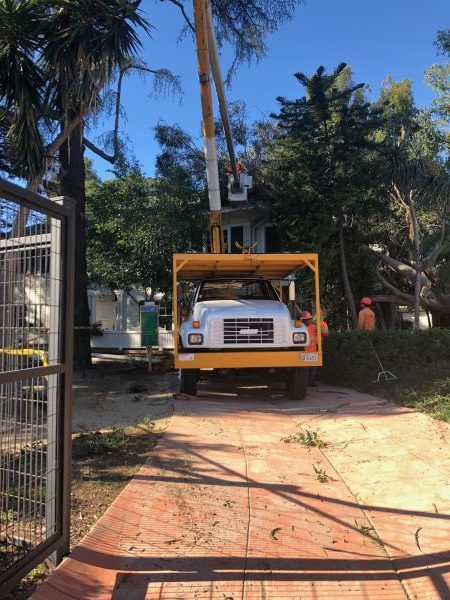 As winds as strong as 13 miles per hour swept through Greater Los Angeles last night, with one victim the house called Tara at 1343 N. Laurel Ave. in West Hollywood.
The wind toppled a eucalyptus tree, which fell onto the historic property on Laurel south of Sunset Boulevard. The fall apparently was slightly blocked by other trees, minimizing the damage to the house, which was built in 1914.
A repair crew was on the site quickly to remove the fallen tree.
The property was donated to West Hollywood in 1997 by its owner, Elsie Weisman, with an oral, but not written, stipulation that the city preserve it. After Weisman died in 2000, the city announced plans to convert the house into apartments and build other apartments on the property, all to house low-income senior citizens. A group called "Save Tara," organized by Allegra Allison, who lived there for 30 years, launched a campaign that went all the way to the California Supreme Court. In 2008, the California Supreme Court ruled the city failed to get sufficient public input before proceeding with plans for the property. The City Council eventually agreed to halt its plans and preserve the property. The grounds surrounding the Colonial style house now are used as a public park.