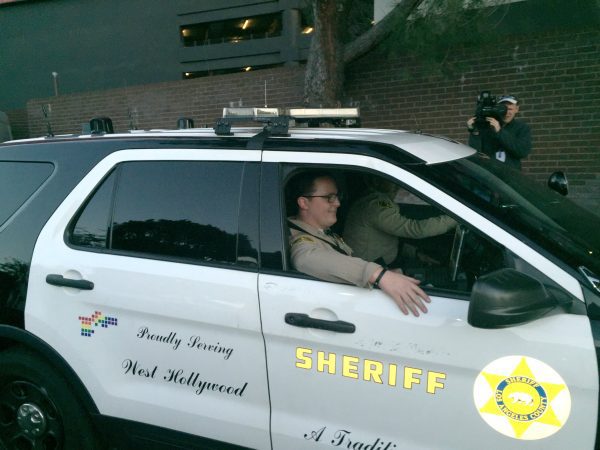 West Hollywood Sheriff's Deputy Garrett Rifkin, whose left leg was amputated below the knee following a motorcycle accident in August, returned to work Thursday afternoon, months ahead of his anticipated return.
Rifkin's recovery period was expected to take six to eight months after the amputation, but in what some might consider a Christmas miracle, Rifkin's doctor cleared him to go back to work on Wednesday, a mere four months after his Aug. 22 amputation surgery.
"I'm excited to be back at work," Rifkin said during a press conference on Thursday at the start of his first shift back. "I've kind of met this whole thing with a positive attitude, as positive as could be. I'm going to keep pushing forward and try and do the best I can."
Rifkin, 25, reported it felt good to put his gear in his car again for the first time since August, felt good to put his bulletproof vest on again, and felt good to just sit in a patrol car again.
He was scheduled to work in a patrol car on Thursday night, answering whatever calls came in over the radio, just like he did before the accident.
That accident occurred on Aug. 3 about 5 p.m. when Rifkin was on a motorcycle en route to work at the West Hollywood station from his home in Santa Clarita. He was headed west on Fountain Avenue when a car going north on Formosa Avenue ran a stop sign. The driver fled the scene and was arrested that night. That driver has since been convicted of a hit-and-run felony and is scheduled to be sentenced on Jan. 25.
Los Angeles Police Department and Fire Department workers arrived at the scene and sent Rifkin to Cedars-Sinai Medical Center, where doctors operated on his foot. After six foot surgeries, Rifkin agreed to have his left leg amputated below his knee.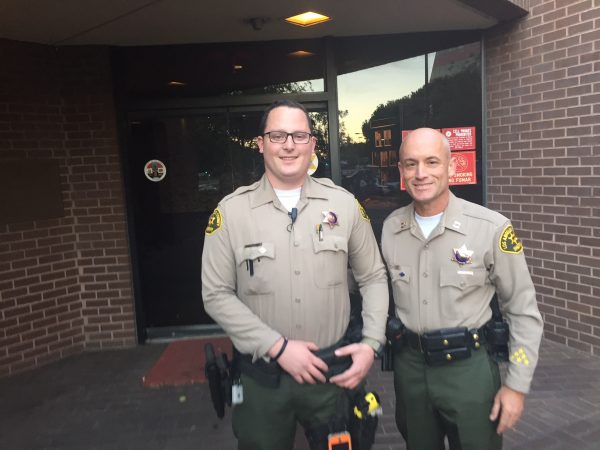 Rifkin, who has been a Los Angeles County Sheriff's deputy for almost five years and has been stationed in West Hollywood for the past two years, explained that if he had chosen to keep the leg, he would not have been able to return to his job as a deputy since he would not be able to run.
"It was keep my leg, do about 20 more surgeries, I would never be able to run, I would walk with a limp and every time I took a step it was going to hurt," said Rifkin, whose father is Bob Rifkin, a retired LA County Sheriff's Department captain. "Or I could amputate and get back to a normal life, so I chose amputation."
Sergio Aloma, the captain of the West Hollywood Sheriff's station, is thrilled to have Rifkin back at work so soon. He said Rifkin has been a "huge inspiration" to everyone at the station.
"From day one, he's had the determination and work ethic to get back to work, to get back to his partners, to get back to serving the community of West Hollywood," Aloma said. "I wish we had 10,000 more deputy sheriffs and police officers working like Garret with his type of work ethic and commitment."
Following the amputation, Rifkin was transferred to the California Rehabilitation Institute in Century City where he did intense physical therapy learning to walk again and climb stairs, falling many times in the process. Once he went home, he continued doing physical therapy three times a week.
Rifkin has done so well with his recovery, doctors have placed zero restrictions on his activities. Although some people might ease back into the work routine and do a 20-hour week at first, Rifkin plans to work a regular 40-hour week from the start.
He reports the prosthetic leg feels more natural than he expected. The primary adjustment he's had to make at home is learning to shower on one leg. He recently got a running blade and is also getting back into running.
Because Rifkin was on his way to work and not actually on the job when the accident occurred, there are limits on what workers compensation can cover. Friends launched a GoFundMe page on Aug. 4, which to date has raised $31,105 of its $50,000 goal, with donations from 350 people. Contributions can be made by clicking on the GoFundMe link.
Rifkin credits his colleagues at the West Hollywood Sheriff's station with getting him through the past five months.
"I don't think I've felt alone in this whole thing since the day of the accident," he said. "[My coworkers have] supported me from the beginning. You couldn't ask for a better station than this."