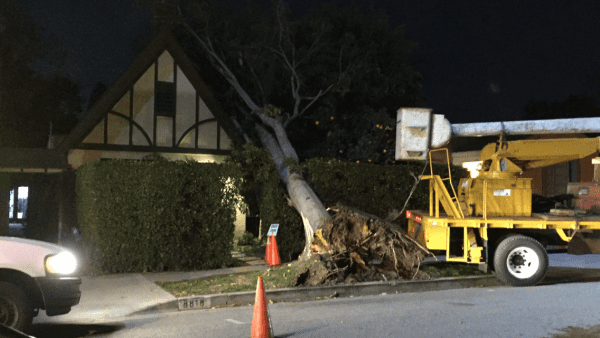 A large tree fell onto a house on the 8800 block of Rosewood Avenue in West Hollywood today, one of at least two trees uprooted as gusting winds battered parts of the greater Los Angeles area. Another tree was uprooted by the winds and landed on traffic lanes at Magnolia Boulevard and Tujunga Avenue in North Hollywood. No injuries were reported in the Rosewood incident.
The windy conditions were expected to continue overnight and into Friday afternoon. The National Weather Service issued a wind advisory that will remain in effect until 3 p.m. Friday for the Santa Monica Mountains Recreational Area and the Santa Clarita and San Fernando valleys. The advisory will last until 3 p.m. Saturday in the Los Angeles County mountains.
The Los Angeles County mountains are expected to have 20 to 30 mph winds, with gusts up to 55 mph in some areas, most notably in the Grapevine area, making driving a challenge for high-profile vehicles.
Winds in the Santa Monica Mountains and valley areas are expected to range from 20 to 30 mph, with gusts up to 40 mph in the valleys and 50 mph in the mountains.
Even areas not included in the wind advisory will still have some blustery conditions. In the metro area, particularly along the coast, winds are expected to range from 15 to 25 mph, with some gusts up to 35 mph.
The Weather Service reported peak winds Thursday afternoon of 43 mph in Van Nuys, 40 mph in Brentwood, 55 mph in Castaic and 37 mph in the Topanga area.