The West Hollywood City Council last night adjourned in memory of the late President George H. W. Bush. However Mayor John Duran took time to call out Bush for his failure to speak up about the AIDS epidemic during his term in office, which was from 1989 to 1993.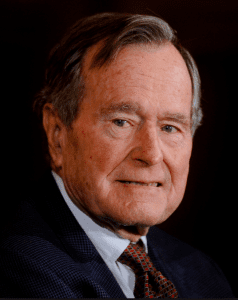 "I just can't sit completely silently about it," Duran said after acknowledging to local resident Yola Dore had suggested the council acknowledge Bush's death. "George Bush while he was in office was not an advocate for LGBT people at any time. Later in life he became an advocate for LGBT people.
"While he was in office he was a very timid president and responsible for the deaths of tens of thousands of gay men along with Ronald Reagan, and that is why we all worked so emphatically to deny him a second term and elect Bill and Hillary Clinton to the White House to give us some hope. While I do have to give him credit for signing the American With Disabilities Act and the Ryan White Care Act, which he also signed.
"It was only when Ryan White put a face to HIV and AIDS that he found the backbone and the courage to talk about HIV and AIDS, completely ignoring the fact that there had been tens of thousands of gay men dead in the streets of our cities."
Ryan White was a heterosexual teenage high school student in Kokomo, Ind., who was diagnosed with AIDS in December 1984 and given six months to live. He had become infected from infected blood injected during his treatment for hemophilia. White's struggle to be re-admitted to high school after the diagnosis brought major attention to AIDS and prompted the passage of an act providing federal funding for treatment of HIV/AIDS that was signed by Bush.
Duran, who is gay and HIV positive, is one of a number of gay activists who have spoken up about Bush's failure to address the AIDS epidemic. HIV is an infection that can lead to AIDS, which makes one vulnerable to death because of its suppression of the immune system. The AIDS epidemic was first noticed by doctors in 1981 in the gay community but became a major national issue by 1989. As of 2016, about 675,000 people have died of HIV/AIDS in the United States. The death rate has plummeted thanks to the introduction of a triple-drug therapy that blocks progression of the HIV virus.
The City Council traditionally adjourns in memory of locally and some nationally prominent people who have died, which involves a council member making a statement on behalf of the person who died.