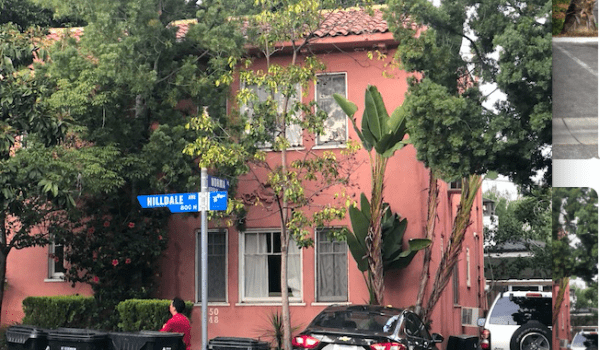 White Rabbit Partners plans to close its Klean drug and alcohol addiction residential treatment center in West Hollywood next year.
The Klean center, located at 850 Hilldale Ave., has 26 beds and offers a variety of treatment programs. Klean also currently operates residential treatment facilities in Long Beach, Wash., and La Pine, Ore., as well as offering outpatient services in both of those states and in West Hollywood. It and the Breathe Life Healing Center at 8750 Sunset Blvd. are the only addiction recovery services in West Hollywood that offer residential treatment, although others are nearby.
David Giugni, West Hollywood's social services manager, said in an email that Klean has confirmed it will leave the Hilldale location by June of next year and has not said what it intends to do with the property. WEHOville has reached out to Andrew Spanswick, CEO of White Rabbit, but as of publication has not heard from him.
In July 2009 Klean leased the Hilldale property, which then contained rent-stabilized apartments on lots ranging from 840 to 854 1/2 Hilldale, for its residential treatment center. Klean and the property owner, identified as three limited liability companies, were sued by the city for taking those rent-stabilized apartments off the rental market. The three LLCs are controlled by Jeff Klein, owner of the Sunset Tower hotel and of 850 San Vicente Blvd., a lot whose San Vicente Inn has been redeveloped into the "850," a luxury bed and breakfast inn.
The City of West Hollywood, Klean and the property owners agreed in 2010 to settle the lawsuit rather than pursue it in court. The agreement requires that Klean house no more than 36 people on the Hilldale property and that it provide 10% of the beds to West Hollywood residents, free of charge. Klean is said to charge an average of $30,000 a month per bed, with stays ranging from one to three months. A Klean employee has told WEHOville that West Hollywood residents at the facility have been or will be moved to the Breathe center on Sunset.
Klean describes its Hilldale residences as upscale treatment centers, with suites that house no more than two people to a bedroom and offer wide-screen television, catered daily meals and walks and hikes. It offers rehab help for addiction to alcohol, cocaine, crystal meth, prescription drugs and heroin.
Klean was the scene of a minor scandal in January when Olivia Voltaire, aka Olivia Lua, a well-known young porn performer, was found dead in the Hilldale recovery center in what the L.A. County Coroner has confirmed was a drug overdose. A Klean employee, since fired, was said to have provided illegal drugs to Voltaire and to other residents in exchange for sex. Spanswick, in an interview with WEHOville in January, said he couldn't comment on allegations about that employee because it was a personnel matter.
Jimmy Palmieri said he was saddened by the closing of Klean's West Hollywood center. Palmieri is founder of the Tweakers Project, a non-profit that works to help addicts achieve a sober life, and a member of the city's Human Services Commission.
"Klean has been a very good civic partner with a lot of sober events," Palmieri said. It's unfortunate that we will not have them for much longer as a source of recovery."
But Palmieri noted that the City of West Hollywood has relationships with other recovery service providers including the McIntyre House and Tarzana Treatment Centers. He also said that the city has been very supportive of the recovery community since it was incorporated in 1984. "Regardless of whether Klean closes or not, the city will do all it can and no one is going to be left behind," he said.