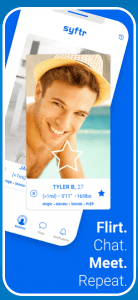 On the one hand, apps like Grindr and Scruff and MR X have made it easier for gay men to find other gay men. But on the other, they've made it easier for gay men on the hunt for sex or friendship or love to be catfished.
More than a few exceptionally handsome men note in their profiles that their photos are being used by other men pretending to be them. Some even have the nerve to continue the text scam up to the point of meeting face to face, which means finding the truth can require driving and finding a parking space, not easy in Los Angeles.
That problem was a major motivation for Syftr, a mobile phone app developed by some local gay men who themselves have endured (or had their friends struggle through) the catfishing experience on Grindr or Scruff. Those men include John Haigh and Peter Mitchell, the developers of the app and co-owners of DZYN LLC.
Syftr users will see the most important tool for keeping the catfish away when they begin downloading their photos. Before the main public profile picture is posted, the app requires you to take a selfie, which isn't posted but is compared with the photo you intend to post. Wrinkles in one pic but not the other? A double-chin that doesn't show in that 10-year-old profile photo? Syftr will bust you.
Once a date- and time-stamped image of the real you is posted, in all your individual glory, you can add four more public pics and five "private" pics, which allow you to show off other aspects of yourself that your Mom wouldn't want you to share. The private pics can be shared for a brief four seconds, giving the other guys enough time to see more of the real you but not capture the photos for other uses.
Another option for connecting with some degree of reality is the ability to engage in a video chat with your newfound sweetie. And if what you see isn't what you were hoping to get, you say "bye Felicia" and end that quick relationship without having to figure out a way to walk out of the door. Unlike with Facetime, you don't have to share your telephone number.
Syftr also offers a long (but not too long) list of questions that are used to sort through your meet up options. They include age, body type, interest or not in romance, etc. But perhaps the coolest option is an alert that will let you
know if someone nearby is on Syftr and meets your criteria. You then can turn and introduce yourself to that guy behind you at Starbucks.
In an interview, Peter Mitchell told the story of a friend who was visiting from out of town and went looking for love, apparently in all the wrong places, because of fake or at least not-up-date photos on Grindr.
"He went on Grindr and went out to the valley and went to this person's door, and when it opened, he said 'Who are you?'," Mitchell recalled. He gets back in the car and goes on Grindr and goes to another person. Knock, knock, knock. The door is opened, and he says 'Who are you?' It wasted three hours of his time."
John Haigh recalls his frustration with the regular apps and new ones like Chappy, where one does the countless right and left swipes to finally find a match whose photo might be on the app but hasn't been on it himself for months.
Haigh isn't new to the app world. He helped develop MarkOnCall, a very popular app based on the book "What Would You Do With This Room" by interior designer Mark Lewison. For several years he made a living with another digital tool – marketing items on eBay.
Mitchell, a native of Australia, has a more complex background. After moving to the U.S he started a clothing line, then went into music industry and then the film industry. He then
started a company that sells pet beds all over the world, including places like Restoration Hardware and Harrods of London. And then there was his furniture line and a decision to invest in Atlas Bar & Grill, the late Mario Tamayo's restaurant on Wilshire Boulevard. Mitchell also owned a small apartment building and began offering short term rentals before Airbnb emerged.
So far Syftr is live only in the United States. However Haigh and Mitchell hope to make it a worldwide app in the first quarter of next year. They acknowledge they are entering a crowded and very competitive field. But Mitchell says there's one thing about Syftr that makes it stand out from all the others. That is authenticity.