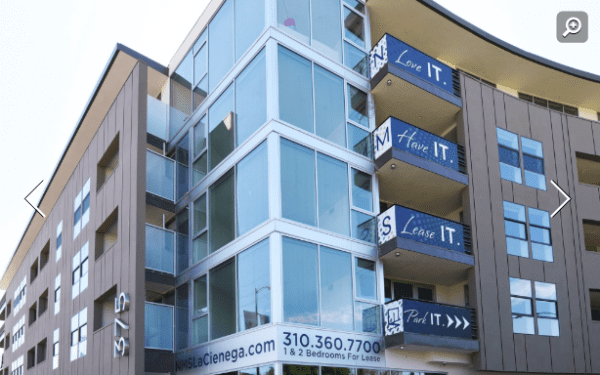 The Luxe La Cienega, an apartment building at 375 N. La Cienega Blvd.,  one of nine properties that were part of a joint venture between Neil Shekhter/NMS Capital Partners and hedge fund AEW, is now controlled by SPI Holdings of San Francisco.
The transfer of ownership, originally reported by the Santa Monica Daily Press, is the result of a judge's ruling in a lawsuit by AEW over Shekhter's effort to buy out its $60 million investment in the properties. Seven of them are in Santa Monica and one is at 9901 Washington Blvd. in Los Angeles.
AEW declined Shekhter's proposed buyout and his NMS Capital Partners sued the hedge fund. According to the Daily Press, a judge ruled in 2016 that "Shekhter forged contracts, lied and destroyed evidence in the lawsuit over the buyout. The judge gave AEW full control of the properties and the hedge fund quickly sold them to San Francisco developer SPI Holdings for about $430 million."
The Real Deal, a real estate website, reported last year that a judge made a ruling supporting a claim that Shekhter and NMS employees "doctored a copy of the 2010 joint-venture agreement, amending a buy/sell clause that, when triggered, allowed either (joint venture) member to buy out the other … by lowering its enactable time frame from five years to three years."
"Court documents said Shekhter engaged in an action his own expert witness, Scott Cooper, called 'dumb' and a 'horrendous idea': replacing the hard drive on his personal home computer — on which he reportedly conducted company business — the day before he was supposed to turn it over for forensic examination in October 2015."
While Shekhter filed an appeal, in November a judge ruled that SPI could take ownership of the nine properties.
The 125-unit Luxe La Cienega is at the intersection of La Cienega and Westmount Drive.