BEST OF: DRY CLEANERS
No. 1
Peter's Magnolia Cleaners
8305 Santa Monica Blvd
www.petersmagnoliacleaners.com/
(213) 654-1383
They've been at it for more than 50 years, so you know Peter's Magnolia Cleaners knows what they're doing.
They started out as two separate businesses.
Peter's is known in the entertainment industry. "We service major movie and television studios for their costume cleaning requirements. In addition to regular dry cleaning and laundry service, we specialize in handling vintage costumes and delicate fabrics," the Peter's Magnolia website explains.
Magnolia Cleaners not only takes care of your clothes, but it offers cleaning services for "your fine garments but also for all your household items, drapes, roman shades, window treatments, upholstery, carpets, rugs and lamp shades."
The two merged in 2001 and still get great reviews for their customer service and for their pricing.
No. 2
Village Cleaners West Hollywood
8265 Santa Monica Boulevard
(323) 654-6811
No. 3
Hollyway Cleaners
8359 Santa Monica Boulevard
www.hollywaycleaners.com
(323) 654-1271
BEST OF: ART GALLERIES
No. 1
Art Angels
9020 Beverly Blvd.
www.artangels.net
(310) 693-5500
The angels behind Art Angels are Jacquelin Napal and Kat Emery, who founded the studio in 2013 and have locations in West Hollywood and Miami and are planning for more.
Exhibitions have included art by innovative artists such as David Yarrow, Russell Young, Flore, Nick Veasey and Mike Dargas. Arts Angeles also exhibits the work of established artists such as Banksy and Andy Warhol.
Art Angels works with a team of art specialists who help collectors, designers, developers and corporations find art appropriate to their needs and tastes.
"We firmly believe that every acquisition should be a marriage of aesthetic appreciation and wise investment and we make it our business to offer both the beginner and experienced investor the perfect marriage of an enriching and sophisticated appreciation of contemporary art and the financial satisfaction of investment performance."
Works from Arts Angeles have been shown in an number of locations such as the Doheny Room and the SoHo House.
Art Angels' contemporary and provocative style has attracted collectors from around the world. Exhibiting a selection of both established and emerging artists, Art Angels offer a truly eclectic mix for their clientele with an ever growing number of innovative artists joining the Art Angels family.
No. 2
Morrison Hotel Gallery / Sunset Marquis
1200 Alta Loma Road
https://www.morrisonhotelgallery.com
(310) 881-6025
No. 3
Louis Stern Fine Arts
9002 Melrose Avenue
https://www.louissternfinearts.com/
(310) 276-0147
BEST OF: FLORISTS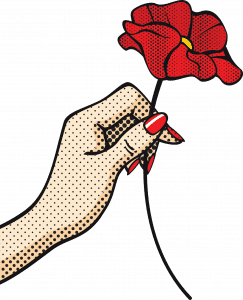 No. 1
Empty Vase Florist
9033 Santa Monica Blvd.
www.emptyvase.com
(310) 278-1988
Saeed Babaeean founded the Empty Vase in West Hollywood in 1988 as a simple flower shop. Over time it has expanded and now is known for its floral sculpture, its home décor work and its event design services. Floral Vase also offers floral design services for beginners.
"On any given day at the Empty Vase, there are metalworkers welding custom frames for larger-than-life topiaries, event designers dreaming up celebrations out of a fantasy novel, clients learning the basics of flower design in one of our signature classes, and sales staff helping customers browse our bloom bar to curate their custom bouquets," says Empty Vase's website.
Babaeean also is proud of the services Empty Vase provides for individuals and families.
"For decades, we have curated celebrations for families, seeing them through from the birth of their children to their bar mitzvahs, weddings, and everything in between. The Empty Vase is not just another florist – we are custodians of the poetry of flowers, who help us share our emotions and celebrate the beauty of life."
No. 2
Flowers Wholesale
8032 Santa Monica Boulevard
www.facebook.com/pages/Flowers-Wholesale
(323) 656-3077
No. 3
West Hollywood Florist
8205 Santa Monica Boulevard
http://www.westhollywoodflorist.com/
(323) 656-8833
BEST OF: CANNABIS DISPENSARIES
No. 1
MedMen West Hollywood
8208 Santa Monica Boulevard
www.medmenshop.com
(323) 848-7981
MedMen has shops in California, Nevada and New York. Its West Hollywood shop stands out for its presentation of cannabis in a radically different way. Instead of the sort of dark and grungy space maybe oldtime cannabis buyers are used to, MedMen WeHo looks like a sleek Apple store.
That's part of MedMen's effort to reposition cannabis. Now that recreational cannabis can legally be sold in California and many other states, MedMen is working to education consumers that it's not a rad underground product but something that any and all can enjoy for reasons of health and well being.
MedMen's Santa Monica Boulevard shop was one of four that opened in West Hollywood right after New Year's Day this year, drawing long lines of customers. Today it's still full of customers, but it has a staff that assists them quickly and efficiently.
Still, it might take some time to shop there because of the variety of products. But when you've made your selection and walk out of the shop, remember MedMen's advice: Smile. Because it's legal!
No. 2
Zen Healing
8464 Santa Monica Boulevard
www.zenweho.com
(323) 656-6666
No. 3
Los Angeles Patients and Caregivers Group (LAPCG)
7213 Santa Monica Boulevard
https://www.lamedicalmarijuana.com/
(323) 882-6033