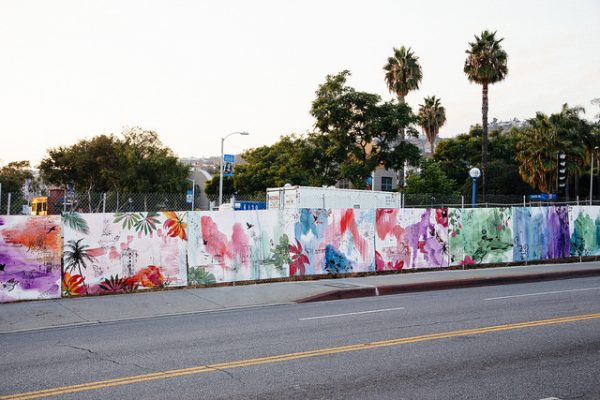 The City of West Hollywood has installed "A Turret Affair," a 550-foot-long temporary mural by the artist Miss Brightside, which is a visual love letter to the turrets of West Hollywood and celebrates the city's architectural history through watercolor, pen and ink illustrations fabricated on 55 colorful vinyl banners. A turret is defined as a small tower on top of a larger tower at the corner of a building or wall, typically a castle. This mural is located on the southwest corner of Santa Monica and Crescent Heights boulevards, at 8120 Santa Monica Blvd. around a lot that is being converted into a temporary parking place.
Scheduled to be displayed through October 2019, "A Turret Affair" features an array of artistic interpretations of each of the turrets Miss Brightside found throughout the city upon moving to West Hollywood in 2015. The artist believes that the City of West Hollywood is home to more turrets per person than any other city in the world. In conjunction with the mural, Miss Brightside has also developed a "Turret Affair Tour" map of each of the turrets featured on the 550-foot mural. The map can be downloaded online.
The mural is part of the city's Art on the Outside program, managed by its Arts Division. Art on the Outside is a temporary art program that installs rotating artworks in spaces throughout the city, including on medians and in park spaces. These works include sculpture, murals and other outdoor works, most of which remain on display from between six months and three years. This program is funded through the city's Public Art and Beautification Fund.