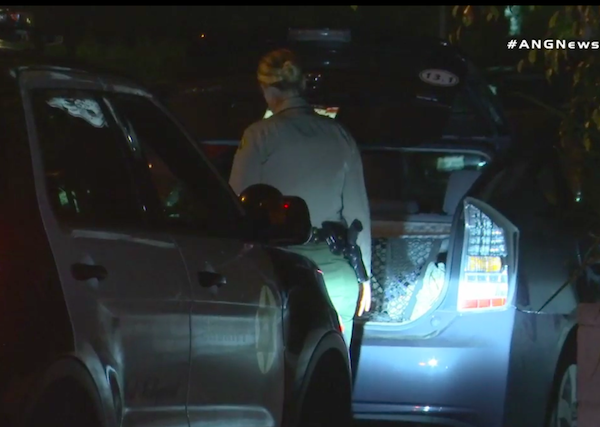 West Hollywood Sheriff's deputies last night arrested two people who appear to have been involved in multiple vehicle burglaries in the city this year.
A statement from the Sheriff's Station noted that detectives conducting an effort to curb vehicle burglaries at around 11:52 p.m. "observed a wanted suspect breaking into two parked vehicles on Melrose Avenue just west of Almont Drive, West Hollywood. The suspect was observed stealing property from the interior of the vehicles and then passing the stolen property off to a second suspect.
"The second suspect entered a vehicle and drove away. That suspect was detained by deputies a short distance from the location. The first suspect attempted to hide behind a vehicle and was attempting to change his clothes to avoid detection. He was located almost immediately and was detained without incident.
"During the search of the suspects' vehicle, multiple pieces of stolen property from burglarized vehicles was recovered. There was also property recovered that was stolen from several vehicle burglaries that occurred in West Hollywood over the last week. Some of the recovered items included IPads, laptop computers, backpacks, wallets with identifications and credit cards, and other miscellaneous items. The male suspect is the primary suspect in many vehicle burglaries that have occurred in West Hollywood this year. He was also wanted on a $250,000 burglary warrant."
The arrests are likely to have a positive impact on areas outside West Hollywood's city limits, which also have seen a surge in vehicle break-ins this year. In West Hollywood alone, there were 33 vehicle burglaries between Aug. 27 and Sept. 2. While that was an exceptionally large number, it hasn't been unusual for the city to experience a dozen or more each week.
Sheriff's Capt. Sergio Aloma has said investigators believe the burglaries are being carried out by gang members from outside the city. The Sheriff's Station has repeatedly reminded drivers not to leave any items, no matter then perceived value, inside their cars when they park them.