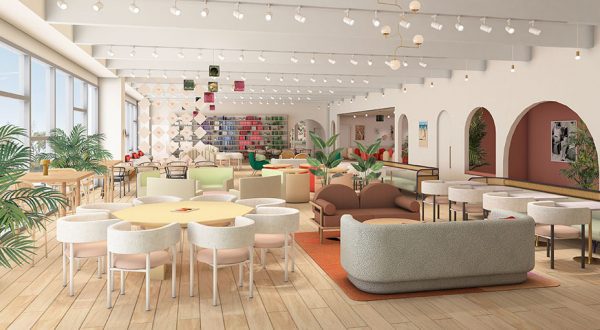 An illustration of the interior of The Wing.
The Wing, a "women's-focused coworking and networking space" that bars men both from membership and from entering as guests, will be one of the tenants in the three-story building under construction at 8550 Santa Monica Blvd.
It is planning to open in January, occupying close to 9,000. square feet on the third floor of the 8550 building, which also is expected to include a Sprouts grocery store, a gym/fitness studio, a restaurant/café and rooftop parking. The 8550 Santa Monica development is a project of Michael Talla, who owns the building on its west side that houses Capitol Drugs Pharmacy, the LASC clothing store and the 24 Hour Fitness gym.
Curbed Los Angeles, which has published illustration's of The Wing's interior, describes it as a co-working space for "those who identify as women or non-binary." "Non-binary" is a term used to describe people who identify neither as male or female.
The Wing is under investigation by the New York City Human Rights Commission for its policy that states that men cannot become members of The Wing or visit as guests. Jezebel, a website focused on women and women's issues, has reported in detail about the debate sparked by that policy and New York City's investigation into it. Supporters of the policy say it provides women with a space where they don't have to fear aggressive or sexual behavior from men. Opponents argue that it is as discriminatory as policies that would bar people based on their race or ethnicity.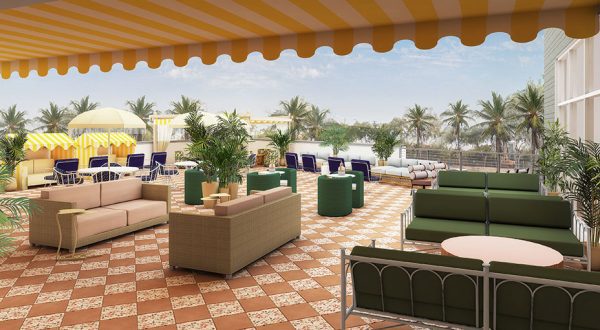 The Wing also publishes a magazine, "No Man's Land," which it describes as "the magazine for women with something to say and nothing to prove" and whose title emphasizes its non-male approach.
Membership fees start at $2,350 a year, Curbed LA reports, noting that that is "comparable to the fees at WeWork or membership to social club Soho House, both of which already have locations in West Hollywood."
The Wing will include meeting rooms, phone booths, showers, lockers, a cafe and bar, beauty and lactation rooms, a library and a gallery showcasing artwork by female artists, reports the Hollywood Reporter. "The Wing has partnered with Hulu, 20th Century Fox, Amazon Video and other entertainment industry heavyweights to hold screenings and experiential marketing events at club locations."
The Wing has locations in Washington, D.C., San Francisco and New York City and boasts members and supporters such as Jennifer Lawrence, Glenn Close, Laura Dern, Lena Dunham, Hari Nef, Uzo Aduba and Christine Baranski.
---
While you're here…
… we have a favor to ask. In the six years since we first launched WEHOville.com our readership has grown rapidly, validating our belief that the residents of West Hollywood care deeply about this city. What hasn't grown so rapidly is advertising revenue, which today is a challenge for all news media. That makes it hard to sustain the unbiased coverage we provide of what is really going on, and that makes it hard for us to assemble the resources  to dig deeper into other stories that affect the lives of those who call West Hollywood home.
So you can see why we need your help. Financial support from our readers means our coverage will never be biased by the interests of a wealthy owner or politician. It means WEHOville will always be able to speak truth to power by shining a bright journalistic light on what is really happening in our city.
The best way for you to support delivery of the news you want and need is by subscribing to WEHOville, which means you'll get a daily alert each morning to all stories published in the previous 24 hours. There are a variety of subscription options, which you can find by CLICKING BELOW. And if you subscribe, we will add you to our growing list of community members who support honest and objective reporting about our amazing city.
Thanks for your support!