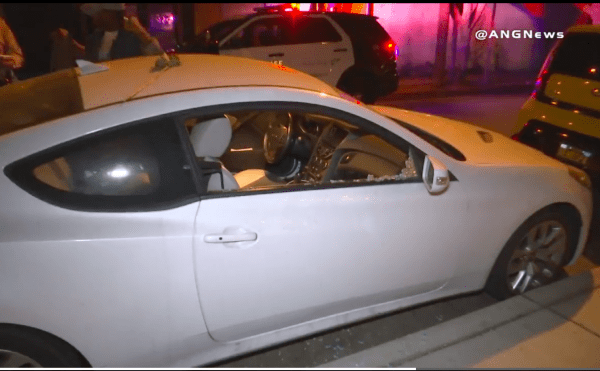 Another rash of car burglaries occurred in and near West Hollywood last night, with Sheriff's deputies responding around 3 a.m. to at least a dozen in the West Hollywood West neighborhood and Beverly Hills police responding to roughly half a dozen in their jurisdiction.
The West Hollywood burglaries occurred within a block north and south of Santa Monica Boulevard between Almont Drive on the west and San Vicente Boulevard on the east.
A woman on the scene told a photographer for ANG News that she and her friends had just arrived from Florida and all of their luggage had been stolen. A man present during the deputies' investigation said his business computer, camera equipment and luxury bags, which he valued at thousands of dollars, were all stolen.
It's unclear if the West Hollywood and Beverly Hills vehicle burglaries crimes are connected. However, law-enforcement officers reported striking similarities. For example, all vehicles had the same points of entry, with the burglars shattering the rear passenger side windows of the victims' vehicles. No description of the suspect or suspects currently is available.
Detectives suspect outside gangs may behind many of the break-ins in Greater Los Angeles, which often are concentrated in a particular area. For example, between Aug. 27 and Sept. 2, there were 33 vehicle break-ins in West Hollywood. Fifteen of them occurred during the late evening hours of Aug. 31 and into the early morning hours of Sept. 1. All of those incidents were window smashes targeting property left visible inside the vehicles on Melrose between Doheny Drive and Robertson Boulevard.
That the surge in vehicle break-ins is not an issue specific to West Hollywood is obvious from a report by the L.A. Downtown News in July that the L.A. Police Department's Central Division, which covers most of downtown Los Angeles, said there were 893 vehicle break-ins in that area from Jan. 1 through July 14. That's a 29.4% increase over the 690 reported for the same time in 2017.
The Sheriff's Station has issued numerous warning that residents and visitors should not leave anything visible inside their cars and should actually remove anything of value. Even a pair of sunglasses or a sweatshirt on a back seat can prompt some burglars to break into a car.
---
While you're here…
… we have a favor to ask. In the six years since we first launched WEHOville.com our readership has grown rapidly, validating our belief that the residents of West Hollywood care deeply about this city. What hasn't grown so rapidly is advertising revenue, which today is a challenge for all news media. That makes it hard to sustain the unbiased coverage we provide of what is really going on, and that makes it hard for us to assemble the resources  to dig deeper into other stories that affect the lives of those who call West Hollywood home.
So you can see why we need your help. Financial support from our readers means our coverage will never be biased by the interests of a wealthy owner or politician. It means WEHOville will always be able to speak truth to power by shining a bright journalistic light on what is really happening in our city.
The best way for you to support delivery of the news you want and need is by subscribing to WEHOville, which means you'll get a daily alert each morning to all stories published in the previous 24 hours. There are a variety of subscription options, which you can find by CLICKING BELOW. And if you subscribe, we will add you to our growing list of community members who support honest and objective reporting about our amazing city.
Thanks for your support!