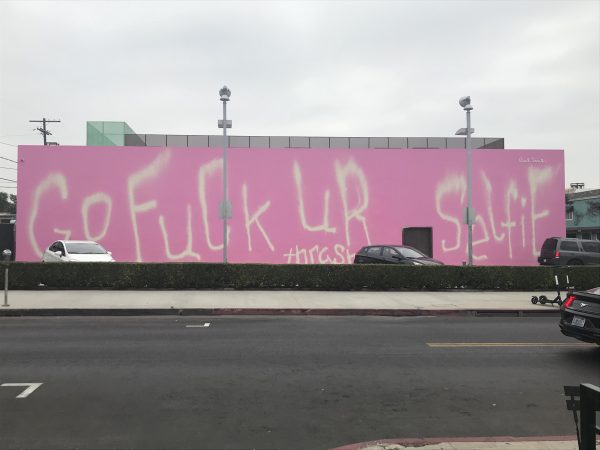 In August 2017, the West Hollywood Visitor + Tourism Board released a list of 11 top locations for taking "selfies" in and around WeHo. That list was so popular that even the Times-News newspaper in faraway Erie, Penn., published it.
But now it looks like someone wants to take one of those selfie shot spots off the list.
This morning those in the neighborhood around the Paul Smith store at 8221 Melrose Ave., famous for its selfie-inspiring pink wall, woke up to a scurrilous slur painted across that wall.  The graffiti is signed by Thrashbird,  an incognito Los Angeles street artist known for his "billboard" takeovers and his self-described desire to "subvert.. mainstream cultures and mentalities."
"Go F-ck Ur Selfie" reads Thrashbird's pink wall graffiti. (WEHOville has struggled with whether to use the actual word in its entirety, which is a violation of our standards — although in this world they are quickly evolving).
As of publication, WEHOville was unable to reach the Paul Smith store manager but will update the story with his response.
If selfie-enthusiasts (such a large part of the population that even the City of West Hollywood has created a selfie spot on City Hall) find themselves avoiding the pink wall, here are other options from the West Hollywood Travel + Tourism Board list, with the descriptions credited to them:
Alfred Coffee (@alfred)
As they say, "But first, coffee" while first-time patrons say, "But first, selfie." Whether it's the triangular black-and-white tile or the mocha or the avocado toast, there's a cool-factor here that's on par with its alley location next to Cycle House. Yeah, the one where Khloe Kardashian and others work out. 8428 Melrose Ave., http://www.alfredcoffee.com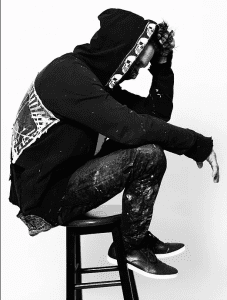 Cycle House (@cyclehousela)
Take a spin (class) and then strike a pose in the alley (preferably in a piece of designer athleisure apparel in front of JGoldcrown's latest mural) with a sweaty glow that says, "I came, I rode, I clicked, therefore I am." That and the buff abs and pecs are testimony enough to being alive. 8511 Melrose Ave., http://www.cyclehousela.com
E.P. & L.P. (@eplosangeles)
This deservedly acclaimed duo is known for a few things: its "Young and Free" neon sign that screams selfie even for mathematically middle-aged peeps; its rooftop happy hours and evening noshing beside a pink "Where Love Lives" neon sign; and its cool, self-described modern Asian eating house vibe. 603 N. La Cienega Blvd., http://www.eplosangeles.com
Gracias Madre (@gmweho)
It's always a good day to say Thanks Mom, a place that celebrates organic Mexican food and the people who grow, cook and serve it. You can't capture the spirit of the place in pixels, but you can sure try – with sun glinting off their boozy snow cones or popsicles or with naturally stylized dishes that almost look too good to eat. Please, though, do eat while it's cold — or hot. 8905 Melrose Ave. http://www.graciasmadreweho.com
Griffith Park
Newsflash (not): the Hollywood sign is the single most iconic backdrop in the area. And practically no one is "above it" – that is, being photographed here. A boatload of images is taken from a fair distance away at the Griffith Observatory. But Bikes and Hikes LA (bikesandhikesla.com/) gets you up close and personal while a drone captures the view for your group. They will even add your image as a cake topper for a special day. hollywoodsign.org
Maxfield (@maxfieldla)
Ohhh, how rich and textured and nuanced the palette of grey concrete on those cement monkeys. Yup, the courtyard entrance of this avant-garde boutique and one-off gallery is playfully guarded by a duo of primitively styled primates. They are almost as famous as what's inside. 8825 Melrose Ave., maxfieldla.com
Retna Mural (@ironeyeretna)
On the wall outside of Craig's, the all American restaurant favored by celebs in the Design District, this mural gives rise to the existential question: If a backdrop was seen and not photographed, did it ever exist? Street artist Retna never had to ask that question since he's been creating his distinctive typography on the streets of L.A. since he was a teenager. 8826 Melrose Ave, digitalretna.com
The Abbey (@theabbeyweho)
The crown jewel of WeHo's gay clubbing scene is the place to be seen with gorgeous go-go dancers, buff boyz and boozy bartenders … Cocktails are as chill as the music is hot. You'll be forgiven if you hand your camera to a friend to take a better-perspective "selfie,"which then begs the eternal question: is that actually a selfie? 692 N. Robertson Blvd., theabbeyweho.com
Skybar at the Mondrian (@skybarla)
Day drinking rarely looks as fun as it does at Skybar, where partying poolside also means partying inside the pool. Come dusk, as candles start flickering, catch a flick while lounging poolside. Come evening, catch a poolside band. No matter the time of day, city views are unparalleled from this ivy-covered pavilion. 8440 Sunset Blvd. http://www.morganshotelgroup.com/mondrian/mondrian-los-angeles
West Hollywood City Hall Selfie Wall (#WeLoveWeHo)
Looking for a selfie passport stamp like the Welcome to Las Vegas sign or the South Rim of the Grand Canyon? WeHo has its own version: the city installed a rainbow tile graphic showing WeHo's tiny size and boundaries. The exterior wall is part of a micro-park project that provides passers-by a place to gather, snap, post, then chill. You're welcome. No, thank you for posting. Go forth, share, like, conquer.
And please don't forget:
Paul Smith's Pink Wall (#paulsmithpinkwall, @paulsmithwall)
L.A. and West Hollywood are full of brightly colored murals, but there's nothing quite as simple and arresting as the Bazooka bubble gum pink box that wraps this retail location of Paul Smith. Ya think? It makes Barnett Newman's color fields and Mark Rothko's abstract expressionism look downright dour. 8221 Melrose Ave., paulsmith.com/us/locator/paul-smith-los-angeles
---
While you're here…
… we have a favor to ask. In the six years since we first launched WEHOville.com our readership has grown rapidly, validating our belief that the residents of West Hollywood care deeply about this city. What hasn't grown so rapidly is advertising revenue, which today is a challenge for all news media. That makes it hard to sustain the unbiased coverage we provide of what is really going on, and that makes it hard for us to assemble the resources  to dig deeper into other stories that affect the lives of those who call West Hollywood home.
So you can see why we need your help. Financial support from our readers means our coverage will never be biased by the interests of a wealthy owner or politician. It means WEHOville will always be able to speak truth to power by shining a bright journalistic light on what is really happening in our city.
The best way for you to support delivery of the news you want and need is by subscribing to WEHOville, which means you'll get a daily alert each morning to all stories published in the previous 24 hours. There are a variety of subscription options, which you can find by CLICKING BELOW. And if you subscribe, we will add you to our growing list of community members who support honest and objective reporting about our amazing city.
Thanks for your support!