Junk in your trunk? You can unload it on Saturday, when the City of West Hollywood is holding its monthly "Junk in the Trunk" rummage sale at Plummer Park.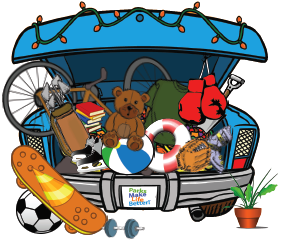 Participants may sell items from the trunks of their vehicles or in the space remaining in designated areas. Anyone who has yard sale items to sell is invited to register to participate in the event – no vendor goods will be permitted.
Items can be displayed from car trunks and hatches, or in a parking sale space using a tarp or table. Sellers are welcome to use one pop-up tent or a canopy in their assigned space, but those must not be bigger than 10'x10′.
Participants may start setting up at 8 a.m. Cars will not be allowed to enter the lot after 9 a.m. Parking sale spaces, which cover two standard parking spots, are available for $15 and must be reserved in advance. Space is limited and will be available on a first-come, first-served basis. Admission is free for shoppers.
The Junk in the Trunk community market will take place monthly, with the next event on Oct. 20 followed by one on Nov. 17.
For more information, please contact Michael Gasca at (323) 848-6546 or at mgasca@weho.org.