A memorial commemorating Scott Imler will take place on Sept. 13 at 2 p.m. at the Church in Ocean Park in Santa Monica. The church is located at 235 Hill St.
The memorial was announced by Imler's husband, George Leddy.
Imler, known as an advocate for medical-use cannabis and as pastor of Crescent Heights United Methodist Church, died earlier this month. He also was an advocate for same-sex marriage.
A profile of Imler published in WEHOville in 2012 notes that he first moved to Los Angeles in 1995 to gather signatures for Proposition 215, which he co-authored. "The measure passed, making medical marijuana legal in California – for the most part. It was still, after all, illegal at the federal level, and has existed, ever since, in a kind of legal gray area, a hostage to the prevailing winds of different federal and local politicians."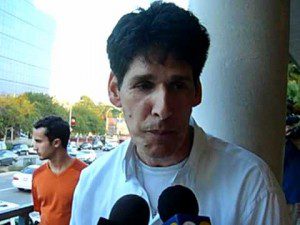 After the passage of Prop 215, Imler opened the Los Angeles Cannabis Resource Cooperative, the first marijuana dispensary in L.A. County). He also joined Crescent Heights United Methodist Church, now closed, which is located at the southeast corner of Fountain and Fairfax avenues.
In 2005, Imler was named pastor of Crescent Heights Methodist Church. He made the church a center of support for those struggling with addiction and many recovery meetings were held there. It also became a resource for those looking for medical cannabis. Crescent Heights was home then to Project Angel Food, which provides meals for AIDS patients, and to the EAGLES Program, the LA Unified School District's alternative LGBT high school.
Imler fought United Methodist's California-Pacific Conference over its decision to close the Crescent Heights church, citing its low attendance of less than 40 people. Imler claimed the church was discriminating against him and his congregation because of his work as an LGBT activist.