The owner of Spin Gal Fitness, a fitness studio on La Peer Drive in West Hollywood, has been accused of throwing hot coffee on a Latino worker at her condo building and called him and a coworker "Mexican wetbacks."
On Aug. 4, Miguel Angel Sánchez arrived at 8 a.m. at the Park Century East condo building at 2332 Fox Hills Drive in Century City to work on another owner's condo unit. Sánchez, who was equipped with an automatic gate opener and keys, went downstairs to let in his coworker Jesses and encountered a woman arguing with him.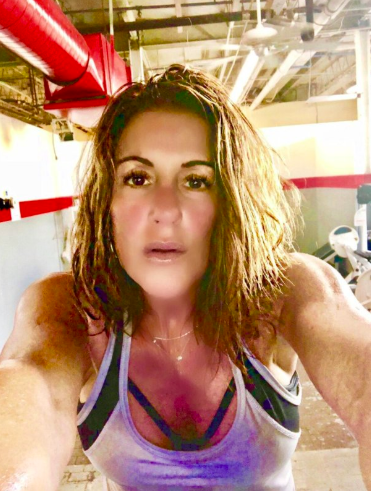 "She wasn't allowing him to come inside because she did not believe that we had the authority to be there," Sánchez said in an interview with Latino Rebels, a website that covers Latino news and culture. Sánchez said the woman starting yelling racial slurs at them, like "Mexican wetbacks." Sánchez videotaped the woman's actions and later posted the video on Facebook.
KTLA 5 posted a story about the incident on its website on Friday. Sánchez's Facebook post caught the attention of users of the Nextdoor app, who identified the woman as Rhonda Michelle Polon, owner of Spin Gal Fitness. A longer video posted on the VivaBernie2020 Facebook page shows a man apparently connected with Polon getting into the argument. He accused the Latino workers of stealing his bicycle.
Sánchez called the Los Angeles Police Department whose officers told him he could file charges against Polon. He decided not to.
The Viva Bernie 2020 group hosted a "Café y Pan Dulce Mariachi Party for CoffeeCity & Bathrobe Billy," the names with which they tagged Polon and her associate, this morning in front of their condo building.
The video of Polon throwing coffee on Sánchez has gone viral and led many on social media to say they will boycott the business. WEHOville was unable to reach Polon for a comment. However, in an email message to Latino Rebels, she wrote:
"I made no rasist [sic] remarks ever!!
"They spliced the video to their liking.
"I am not rasist.[sic]
"I threw cold coffee on him after 45 minutes of be harassed by them.
"I was then scared and did not know what else to do.
"I had nothing to do with the argument that insued [sic] afterwards with the other persons involved.
"I have nothing else to say.
"I am being harassed for protecting the safety of my home and myself.
"The police have been contacted in regards to these claims and harassment's [sic] of and to me "and there will be no further remarks from me."