David Cooley, the well-known owner of The Abbey Food & Bar and its sister bar The Chapel, is calling for a boycott of Alaska Airlines after a flight attendant insisted Cooley's traveling companion give up a first class seat to accommodate a heterosexual couple.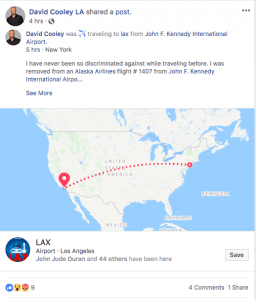 "I have never been so discriminated against while traveling before," Cooley said in a post today on his Facebook page. "I was removed from an Alaska Airlines flight # 1407 from John F. Kennedy International Airport to LAX to give preferential treatment to a straight couple. After my traveling companion and I had been seated in our assigned seats for a while, we were approached by the flight attendant and my companion was asked to move from his premium seat to coach, so a couple could sit together. I explained that we were a couple and wanted to sit together. He was given a choice to either give up the premium seat and move to coach or get off the plane. We could not bear the feeling of humiliation for an entire cross-country flight and left the plane.
"I cannot believe that an airline in this day and age would give a straight couple preferential treatment over a gay couple and go so far as to ask us to leave. We will never be flying Alaska Airlines or their recently purchased Virgin Airlines Group ever again. Thank you to Delta Air Lines for getting us home safe. If you are an #LGBT person, please spend your travel dollars with an LGBT friendly airline like Delta."
WEHOville has reached out to Cooley for more information on the incident and to Alaska Airlines for a response. TO CONTINUE READING, CLICK HERE.