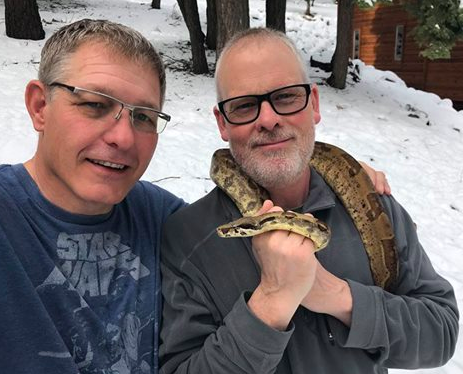 Peter Jackson, a former resident of West Hollywood, has been identified as the passenger who died in a plane crash on Tuesday near Truckee, a town in California's Nevada County.
Jackson, according to the Washoe County Medical Examiner's Office, died of multiple blunt force injuries. His life partner, Eric Raptosh, remains in the hospital in serious condition. The pilot, Kenneth Whittall-Sherfee of Carmichael, also died. He was the owner of the plane.
The Federal Aviation Administration reported that the single-engine plane crashed on the side of Highway 267 near Mercer Flats just before 7:40 a.m. A spokesperson from the Truckee-Tahoe Airport said the plane had left the airport at 7:33 a.m. and reported engine problems and was trying to return.
Jackson, 55, is a native of Kensington. He was employed in the technology field while Raptosh was a professional photographer. In a recent Facebook post Jackson said the two had lived in Venice and then West Hollywood several years before leaving in 2016 to explore other places. They eventually moved to Boise, Idaho, but also travelled frequently to a home in Truckee. A friend of the couple said they flew frequently between the various cities.