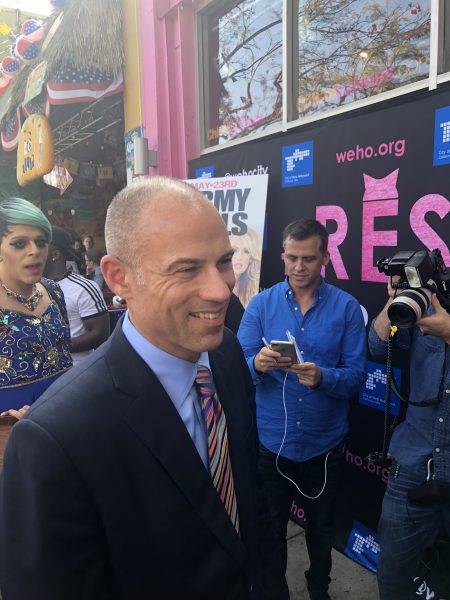 He'll be back (but she won't).
The West Hollywood City Council last night approved a proposal by Mayor John Duran that the city sponsor a panel on July 26 featuring Michael Avenatti, who is best known as the lawyer for porn star Stormy Daniels.
Avenatti made his last official appearance in West Hollywood on May 23, which the city had designated as "Stormy Daniels Day." On that day Duran and Councilmember John D'Amico gave Daniels the key to the city and a proclamation in front of Chi Chi La Rue's, the adult sex toy shop on Santa Monica Boulevard. While Daniels was there to sell her branded t-shirts, she was being acknowledged by the city for her role in the fight against Donald Trump. It was Daniels' lawsuit against Trump, filed by Avenatti, that brought public attention to her alleged affair with Trump in 2006. She is fighting a nondisclosure agreement that had been negotiated by Michael Cohen, then Trump's lawyer, just before the 2016 U.S. Presidential election.
The panel is intended to discuss what is going on in the nation's capital. At last night's Council meeting, Duran said at this point the panel will include Avenatti and a representative from CHIRLA, the L.A.-based Coalition for Humane Immigrant Rights, and Steve Madison, a Pasadena city council member.
The Council authorized spending $1,000 on the event and waiving $312 fees. It will take place at Fiesta Hall in Plummer Park at 7 p.m.