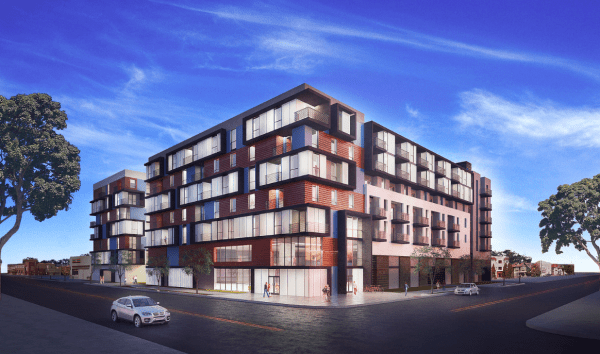 West Hollywood Community Housing Corp. is receiving state funding from the state's Strategic Growth Council for a project on Pico Boulevard east of Vermont.
The Council awards funds to support projects with the goal of reducing greenhouse gas emissions and helping residents live closer to work, grocery stores and hospitals.
"By integrating affordable homes and sustainable transportation, the Affordable Housing and Sustainable Communities program makes it easier for residents to drive less by making sure housing, jobs and key destinations are accessible by walking, biking and transit," said an announcement of the WHCHC Eden Elms project and five others.
The Eden Elms, a project of WHCHC and the City of Los Angeles, is a development with 92 units of affordable housing and social services offices. The $16.6 million in state funding also would be used to repair and construct accessible walkways that would connect the housing to transit.
According to the Council, to date, affordable home development and other projects awarded through the AHSC program will avoid the release of more than 1.5 million metric tons of greenhouse gases, the equivalent of taking 320,000 cars off the road. The program has also awarded funding for the construction of more than 6,000 homes for Californians who struggle to make ends meet.
"With over $700 million in grants for housing and transportation projects that reduce greenhouse gas emissions, the Strategic Growth Council is helping make a difference in communities around the state," said Ken Alex, SGC chair and director of the Governor's Office of Planning and Research.