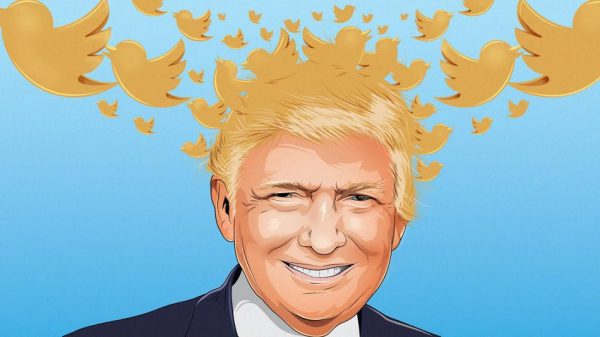 Those grandiose presidential libraries usually don't get built until POTUS leaves office, whether by retiring, dying on the job or in an effort to avoid impeachment (e.g. Tricky Dick).
But with a president who likely has generated more news in his first year in office than have the previous 44 in their entire lifetimes, it doesn't make sense to wait to commemorate what he says or does.
Thus the Daily Show's "Donald J. Trump Presidential Twitter Library," which opened at noon today at 631 N. Robertson Blvd. (just south of the Anawalt Lumber building) in West Hollywood.
"Like its pop-ups in New York, Chicago, and San Francisco, the LA library showcases the finest works from Trump's Twitter collection, his preferred vessel for 'communicating' with the public," says an announcement of the opening by the Daily Show, which is hosted by Trevor Noah.
"The library features visual installations and a fully interactive experience for hands of all sizes, giving patrons the opportunity to memorialize and celebrate the many 'unpresidented' moments of President Trump's Twitter history."
The library will be open today until 10 p.m. and from 10 a.m. to 10 p.m. on Saturday and Sunday this weekend and on June 15, 16 and 17. Admission is free. (Here's guessing  that Stormy Daniels t-shirts will be permitted.)
The Daily Show says there will be select exhibitions in the Presidential Twitter Library, including:
THE COMMANDER-IN-TWEET: In the Library's marquee attraction, attendees will step into a replica of the Oval Office, be presented with a crisis situation, and have 30 seconds to compose a tweet white sitting on a golden toilet, just like the president!
SAD! A RETROSPECTIVE: A video retrospective will solemnly display a collection of people, places and things that the President has deemed "SAD!"
TRUMP VS. TRUMP: Here we document President Trump's unique ability to hold a variety of different opinions on the same subject.
VERIFIED SURVIVORS: Listen to a series of testimonials from high-profile victims as they recount the trauma of being attacked by Trump on Twitter.
DONALD J. TRUMP: A MAN OF CHARACTERS: In a short docufilm narrated by Daily Show correspondent Desi Lydic, the library takes a look at Trump's Twitter history and the social media platform he made great again.
MASTERWORKS: Sit back and admire some of Trump's finest works as a master tweeter.
A DONALD J. TRUMP TWITTER TIMELINE: Study the broad arc of Trump's history in one comprehensive timeline, from his very first tweet about his appearance on Letterman, to his proclamations that Obama was born in Kenya, to his important, early morning screeds as the leader of the free world.
11 MINUTES: This brand new video exhibit features first-hand accounts of what the world looked like for the 11 minutes that Donald J. Trump mysteriously vanished from Twitter, shaking a nation to its core.
The Daily Show with Trevor Noah Presents: The Donald J. Trump Presidential Twitter Library will also soon be immortalized in print. Written by the writers of The Daily Show with Trevor Noah with daily inspiration from the Commander-in-Tweet and an introduction written by Trevor Noah, Spiegel & Grau, a division of Penguin Random House, will release "The Daily Show with Trevor Noah Presents: The Donald J. Trump Presidential Twitter Library" on July 31.