Lt. Dave Smith, the Los Angeles Sheriff's Department deputy whose 30 years of service in West Hollywood has made him a well-known local figure, has been charged with obstructing justice for allegedly tipping off a massage parlor employee about upcoming law enforcement raids in exchange for sexual favors or gifts.
The Los Angeles County District Attorney's Office announced the charge this morning. Smith, 59, has been charged on one felony count of conspiracy to obstruct justice and one misdemeanor count of obstruction of justice. He was scheduled to be arraigned this morning at the Folz Criminal Justice Center in downtown Los Angeles.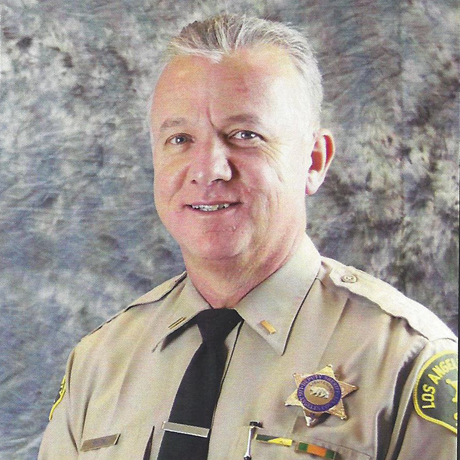 An announcement from the District Attorney's Office said that "according to the criminal complaint, Smith said he would conduct lawful inspections at massage parlors in West Hollywood. However, Smith is accused of paying for sex at two of the locations between 2016 and 2017. He also allegedly received gifts from a massage parlor employee.
"In return, Smith is accused of checking to see whether law enforcement planned on raiding the employee's location. On one occasion, Smith allegedly told the employee there may be law enforcement officers near the business and advised her she might want to close for the evening, according to the complaint.
"If convicted as charged, Smith faces a possible maximum sentence of three years in state prison or jail."
The massage parlors where Smith is said to have received sexual favors are Pine Therapy Massage at 8424 Santa Monica Blvd. and H20 Massage at 1011 N. Fairfax Ave. Secretary of State records identify the owner of Pine Therapy as Andrew S. Lee and the treasurer as Young N. Kim. H20, whose business license expired in March and hasn't been renewed, apparently was owned by Huasheng Chen of Tracy, Calif., and managed by Li Wang.
Smith, who joined the station in October 1985, was suspended with pay last June for reasons not then made public. He later announced his early retirement from the Sheriff's Department.
Known by many as Smitty, Smith became the very public face of the local Sheriff's Station. With the exception of a one-year assignment at the Lynwood Jail, Smith spent 30 years working in West Hollywood.
In 2004, Smith was promoted to lieutenant and took on the role of overseeing the COPS team and the Entertainment Policing team that covers the Boystown and Sunset Strip nightlife districts). He also oversaw major public events such as the annual Halloween Carnaval and the gay Pride festival. He represented the station at the monthly meetings of the city's Public Safety Commission.
The indictment brings to light an investigation that has been going on for a number of years over allegations that some employees of West Hollywood's dozens of massage businesses are undocumented workers who are not paid or treated according to government standards and are afraid to complain for fear they will be extradited.
A list of businesses registered with the City of West Hollywood that was obtained last year identifies 162 licensed masseurs working out of about 60 locations. The names of a large number of those masseurs suggests they are of Korean descent and thus could be undocumented.
The complaint says that Smith was aware that the Sheriff's Department's Vice/Human Trafficking Bureaus had conducted a surveillance of local massage businesses in 2012 as well as other investigations. Young Kim, who apparently managed the Pine Therapy Massage parlor, is said in the complaint to have accepted payment from Detective Gary Furuyama of the Vice / Human Trafficking Bureaus in August 2012 at which point he was offered a sexual encounter, providing evidence that prostitution was taking place.
The complaint says that Smith received "gifts and services" from Young Kim during 2016 and 2017 and paid for sex there and at H20 Massage in those years.
The complaint also gives a vague description of an incident that occurred on June 4, 2017, in which Smith followed Vice Detective Aaron Korth when Korth left Pine Therapy Massage after an apparent investigation.
It was that incident that brought Smith's alleged behavior to the attention of some lower-ranking employees of the Sheriff's Station, some of who are said to have had a difficult relationship with Smith. WEHOville learned details of that incident many months ago but was unable to adequately confirm them so that it could publish a story.
The complaint alleges that on June 4 Smith asked deputies to find out whether there was any law enforcement action planned or taking place related to Pine Therapy Massage. According to the complaint, Smith then called Young Kim and warned her that law enforcement officers were nearby and suggested she be careful or close the business.
According to the complaint, Smith said he entered Pine Therapy on June 4 only to warn the manager of upcoming street closures. Smith told an investigator that he only entered Pine Therapy every other month to "conduct lawful inspections and on those occasions would be wearing a business suit or department-issued uniform."
The complaint also notes that a "Suspected Child Abuse Report" may be made regarding allegations against Smith.