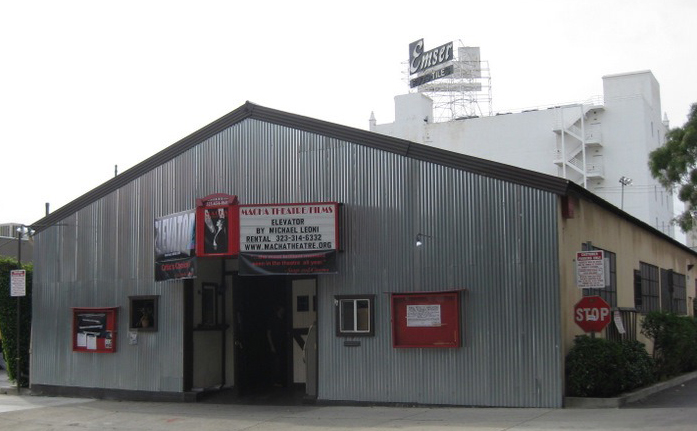 West Hollywood's MACHA Theatre will have a new life with the opening on June 2 of the 11:11, a new performance space.
11:11's opening will feature a performance called "Good Vibes Live" featuring music, dance, comedy and art. Tickets are on sale now at www.the1111space.com. Participating artists have not yet been announced. On June 7 there will be a tour of the performance pace following a 2 p.m. ribbon cutting by Mayor John Duran. An announcement of the event says that "Guests will see the remodeled and upgraded theatre space and a lobby that includes a lounge area and café boasting a 70s rock & roll vibe. Hors d'ouvres and cocktails will be served."
The MACHA Theatre building at 1107 N. Kings Rd., just north of Santa Monica, was built in 1947. The building was originally a warehouse, but it was converted to a 99-seat theatre known as the Globe Playhouse in 1973 by Thad Taylor, who founded the American Shakespeare Society. After Taylor's death in 2006, the operation of the theatre was taken over by Odalys Nanin. The name was changed to the MACHA Theater (Mujeres Advancing Culture, History and Art) in 2007.
An online search shows that 11:11 is owned by Michelle Kaufer, Erica Katzin and Michael Leoni. Their first production was "The Playground," described as "a rock music-infused piece inspired by the lives of" homeless kids." Most recent film credits for Leoni include writing and directing the feature documentary, "American Street Kid."
In an announcement of its purchase of the theatre, the owners, who are also the team behind the production company, An 11:11Experience, said the venue will move beyond traditional theatre to include live music, comedy, pop-up art-exhibits,film screenings and private events.
Nanin and several local residents have petitioned to have the theatre building designated a historical and cultural resource, a move opposed by the building owner because of the restrictions it would put on future redevelopment of it.