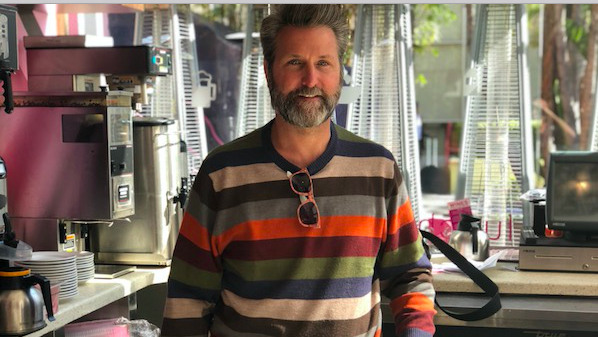 David Dickerson's idea when he opened Kitchen 24 was to update the concept of a diner – offer the comfort foods that diners have always been known for but add healthy options too.
That's why you'll find classic diner fare on the menu like meatloaf, spaghetti and meatballs, burgers, tuna melts and cheese steaks, plus sides of mashed potatoes, fries and macaroni and cheese. But you'll also find a dozen salads, grilled salmon, grilled chicken, veggie burgers and a turkey avocado sandwich, plus sides of roasted carrots, cauliflower and Brussel sprouts.
"The idea behind Kitchen 24 is that every day is different for you," Dickerson explains. "Some days you want to choose the guilty options, and some days you want to choose the healthy options. No matter what day that is, we hope to be able to accommodate that."
The concept seems to be working. Kitchen 24 has two locations that are going strong – in Hollywood on 1608 Cahuenga Blvd. (near Selma), open since March 2008, and in West Hollywood at 8575 Santa Monica Blvd. (near Westmount Drive), open since February 2012.
Both branches operate 24 hours a day (hence the name Kitchen 24) and get a good crowd of late-night patrons dropping by after the clubs close, as well as steady breakfast, lunch and dinner crowds.
At the Hollywood location, you're just as likely to see a tattoo artist coming in for a meal after work as you are a celebrity dropping in for a burger or a Hollywood producer taking a pitch meeting.
The West Hollywood location gets a good number of tourists thanks to its being adjacent to the Ramada Inn, but also has a steady stream of locals catching up with friends, plus area movers and shakers discussing projects.
Being a social gathering spot and having a mix of people is something Dickerson loves and strives for.
"The idea was we would treat everyone the same," says the 49-year-old Dickerson, who hails from Maryland, a state where diners have always been a vibrant part of the culture. "We have wide range of food so we can accommodate a variety of tastes. Very moderate price point, high quality food, high accessibility, something for everybody. It was all about being something for everybody."
Grandmother Started Him Cooking
Feeding people is in David Dickerson's blood, thanks to his grandmother.
"I really enjoy taking care of people," says Dickerson, who lives in the Hollywood Dell section of the Hollywood Hills. "You come to my house, I want to put food on the table for you. It's from my grandmother having a lot to do raising me. A lot of comfort comes from knowing that the people you're with are fed and subsidence is sustained."
His grandmother, Thelma Dean, who worked as a waitress in a diner at a Hecht's department store in Baltimore, is the one who taught him to cook.
"My grandmother was always in the kitchen," he recalls. "If I was going to spend time with her, it was going to be in the kitchen. I was one of the only people she allowed in the kitchen with her. I tried to be as big a help as possible to her. I would assist in preparing meals, so I learned a lot about cooking from her."
While his grandmother never wrote down any of her recipes, several items on the menu were inspired by things he helped her cook. Dickerson says he is continually learning new things from the chefs he employs.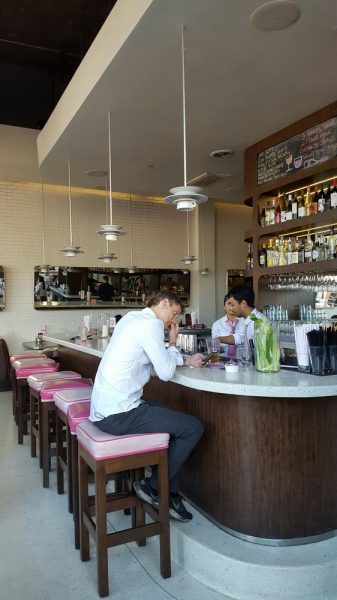 "One of the greatest things I take from being in the restaurant industry is I'm around great chefs," he says. "I'm over their shoulder all the time trying to learn from them, having them teach me new things so that I can take it home and cook."
He loves the collaborative nature of the restaurant business, everything from working with chefs to create great food to working with a design team to create a great restaurant.
"I love that the chefs and bakers and architects and designers can take my ideas and not only transform them into reality, but often improve upon my original idea," Dickerson says.
Menu Favorites
Dickerson's favorite sandwich on the Kitchen 24 menu is the fried chicken sandwich – a Southern fried chicken breast with pepper jack cheese, lettuce, tomato, onion, pickles and chipotle mayonnaise on a brioche bun. He eats it at least once a week, sometimes several times a week, depending on his mood.
"It's so good in my opinion because I wanted to one up Chick fil-A," Dickerson brags. "It's a heartier sandwich, the pickles are a good part of the taste. I just wanted that basic chicken sandwich but with a bigger piece of chicken."
That fried chicken sandwich, like all the other sandwiches and burgers on the menu, is served with the homemade potato chips, made fresh daily. "The chips are a nod to Maryland; it's an Old Bay potato chip like I grew up with," he says.
Although there are ten different burgers on the menu (including a veggie burger made with garbanzo beans), Dickerson's favorite is the "Kitchen Sink Burger" made with Angus beef, bacon, avocado, cheddar cheese and Sriracha mayonnaise with an over easy egg on top.
"It's probably our most popular burger; it's definitely my favorite," he says. "It's very satisfying and will definitely fill you up."
Breakfast Anytime
A hallmark of diners is that you can get breakfast any time of day. That's certainly true at Kitchen 24, where breakfast items account for about a third of sales. Dickerson reports the most popular breakfast item is the traditional bacon and eggs, known on the "K24" (as it is affectionately called by regulars) menu as "Wakey Wakey Eggs & Bakey."
Also popular is the "Bartender's Banquet," a breakfast quesadilla served with half a waffle, and the "Midnight Special," a bacon cheddar waffle served with fried chicken and gravy.
Kitchen 24 recently added a red velvet waffle served with a cream cheese glaze to the menu. "A lot of people seem to like it when they're hungover," Dickerson says. "Maybe it's the sugar they're craving."
The ability to order breakfast 24 hours a day is part of what Sam Borelli loves about Kitchen 24.
"I often eat breakfast there morning, noon and night," says Borelli, who lives nearby. "'The Skillet' (hash browns, eggs and bacon) is always my go-to. It's served in a cast-iron skillet. I like that because it reminds me of my grandmother."
Borelli, who calls K24 his "other office," is such a regular, they named a cupcake after him. The restaurant carries red velvet cupcakes year round, but rotate a number of other flavors in on a seasonal basis. After Borelli mentioned to baker Romy Orantes they should have a butterscotch cupcake like his grandmother used to make, she come up with a butterscotch cupcake with butterscotch icing, which they named the "Butterscotchorelli."
Borelli notes that Kitchen 24 was one of the first restaurants in the Boystown area to hire a racially and ethnically diverse serving staff.
"West Hollywood is not known for being the most diverse place in California, but at Kitchen 24, you'll see a wait staff that is every color of the rainbow; there's a Korean manager and a black manager," Borelli observes. "A lot of other restaurants started hiring a more diverse staff after seeing what K24 did. That has helped change perceptions of West Hollywood and helped make people of color feel more welcome."
Dickerson wasn't so much setting out to hire a diverse staff as he was hire the best people for the job. "We hire based on who will blend well with our culture," he says. "We like them to have some restaurant experience, but it's more important they be a good fit with our operation."
Diversity has always been a part of Dickerson's life. He grew up in Columbia, Md., a planned community near Baltimore, started in the late 1960s, that was designed to be highly integrated.
"Growing up in Columbia exposed me to a lot of different socio-economic classes, different cultures, different religions, different races. A lot of interracial couples settled there because they'd experienced discrimination elsewhere, so a lot of my friends were mixed race," Dickerson says. "Columbia was a great place to grow up because I got exposed to a lot of stuff that I didn't know wasn't normal until I got to college and then, unfortunately, found out that there was a lot more judgement going on in the world than I was used to."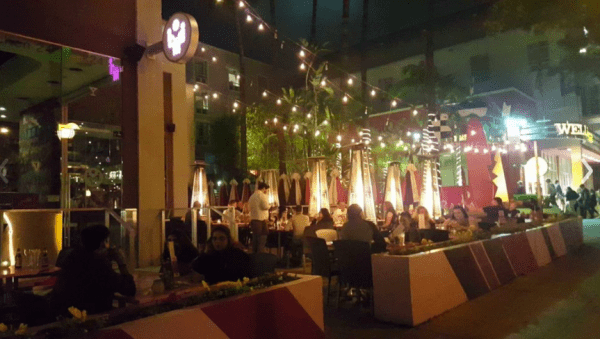 Dreams of Hollywood
Dickerson didn't intend to go into the restaurant business. Although he worked in bars and restaurants during college at the University of Maryland, he majored in film and speech communications. He came to California with dreams of making it big as a writer or director. One of his first jobs was working as a production assistant on season eight of MTV's reality series, "The Real World." That season, which aired in 1999, was set in Hawaii and included Teck, the party animal, and Ruthie, a bisexual woman with a drinking problem.
Dickerson enjoyed the work, but found it too isolating, and at times, disconcerting, such as when he ran into Ruthie and Teck at a wrap party.
"I knew them like I knew my best friend because I had watched thousands and thousands of hours [of raw footage of them], but they didn't even know who I was," he recalls. "It was so weird for me to know them so well and for them look at me like I was a perfect stranger."
Later, he worked as an assistant editor on another reality series, "Temptation Island," a show he ultimately found distasteful because the concept involved attempting to break up families.
Disenchanted by the profession and knowing he needed work that involved more human interaction, his entrepreneurial spirit took over. He and friends Errol and Kimberly Roussel, whom he met while they all worked on "The Real World," opened an updated version of a cinema drafthouse.
The 100-seat Cinespace, located on Hollywood Boulevard near Vine Street, offered great meals and a full bar while people watched movies. Opened in 2002, Cinespace primarily screened classic movies, but also hosted small film festivals and "soft premiers" of low budget, independent films to build up buzz before they officially debuted at the Sundance Film Festival in Utah.
With a stage upfront, Cinespace sometimes hosted live music and comics, but over the years evolved into more of a nightclub. In the meantime, his Cinespace landlord also had a building a block away on Cahuenga Boulevard, where he decided to try his updated version of the classic American diner.
Dickerson oversaw both Cinespace and Kitchen 24 for four years. However, by 2012, when the West Hollywood K24 branch was opening, Dickerson and his partners opted to phase out Cinespace and someone else took over that business.
The Roussels are his partners in Kitchen 24 as well. While Dickerson handles the day-to-day operations of the two restaurants, Errol Roussel handles the financial matters and Kimberly Roussel oversees catering and events. Between the two locations, Kitchen 24 employs about 120 people.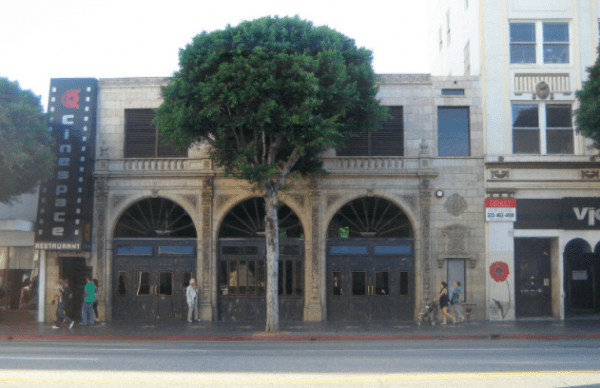 Ice Cream Time
Ice cream is the dessert staple on the menu at every diner in America, and Kitchen 24 is no exception. K24 offers several ice cream concoctions including a waffle ice cream sundae, a brownie served with ice cream and a large chocolate chip cookie served in a cast-iron skillet with ice cream on top, plus apple pie a la mode.
But Dickerson took the ice cream theme to an extreme. Diners frequently have unusual color schemes, at least the ones in Maryland did when Dickerson was growing up. While he opted to skip the neon sign that most diners have, he did want to continue the tradition of unusual colors.
At first glance, K24's color scheme seems to be white, brown and several shades of pink. However, Dickerson will quickly correct you.
"The color palate is chocolate, vanilla and strawberry. It's Neapolitan," Dickerson says. "When we were first opening, the architects and the designers would talk about it, saying, 'It's pink,' and I'd go, 'No, it's strawberry.' They'd always go, 'It's brown,' and I'd say, 'No it's chocolate.' We'd have all these arguments and I'd go, 'It's not white, it's vanilla.' By the time we got to opening, I had all the architects and everybody on the same page referring to them as flavors instead of colors."
Drinks and Happy Hour
Traditionally, diners don't serve alcohol, and the few that do tend to just have beer or wine. However, Kitchen 24 has a full bar, which accounts for about 30% of sales.
"Part of the idea of contemporizing the diner concept was adding alcohol," Dickerson says. "We felt you should be able to have a Bloody Mary at breakfast or a mimosa at brunch or a cocktail with dinner."
The alcohol license proves especially popular with tourists whose body clocks may be off due to flying into Los Angeles from all over the world.
"You'll see a lot of people arriving at the [Ramada Inn next door] at 7 or 8 a.m., just off a plane," says Dickerson. "But their body thinks it's something like 10 or 11 o'clock at night and they want a cocktail or a beer before going to their rooms to sleep off the jet lag."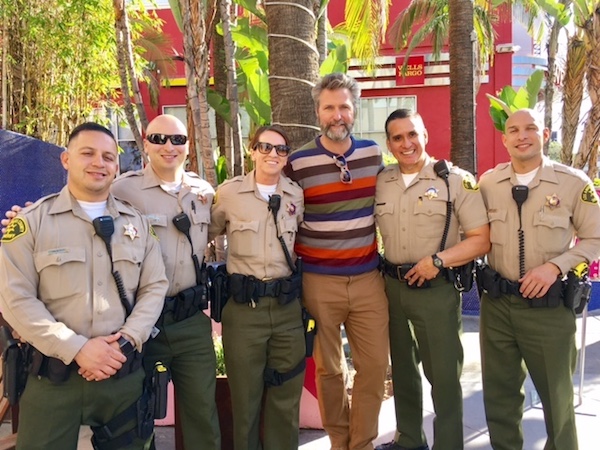 Patio Dining
Diners do not traditionally have patios, but the patio at the West Hollywood K24 accounts for 70% of the seating. In fact, the patio area is what drew Dickerson to the space when he was scouting for a second location.
"I fell in love with the patio right away," says Dickerson, who is currently remodeling the patio to add a pergola. "I knew we could do so much with the patio. I love being out here and watching people go by."
Over the years, a number of restaurants had tried and failed to make a success out of that location beside the Ramada Inn, but Dickerson knew it was the right space, especially because of the patio.
"I was told this space was cursed, that no place had ever been successful here, but I felt good about it," Dickerson reports. "I had a vision for how I could see it being lively and active."
Ramada Inn general manager Alan Johnson says hotel guests frequently eat at Kitchen 24 (hotel guests can also order take-out, which K24 waiters will deliver to their rooms), and the patio is one of their favorite things.
"They rave about the patio," Johnson says. "The love being able to sit outside and enjoy their meal."
Don Zuidema, owner of the LASC men's clothing store located across the street from Kitchen 24, says he eats there at least once a day, sometimes more. His favorite patio tables are the ones along the sidewalk.
"[My friends and I] affectionately call those tables 'The Runway'," says Zuidema. "We can see our friends and neighbors coming down the sidewalk, watch everyone else go by too. It's a real social gathering place."
That idea of routinely bumping into friends on the sidewalk was a major factor in Dickerson choosing West Hollywood for the second K24 location rather than downtown L.A., Studio City or West LA.
"I knew I wanted to be in a place that had a strong sense of community, but also a sense familialness, where you see the same people on the street regularly, have a group of regular customers," says Dickerson. "I love the fact that I get a sense of optimism when I'm here [in West Hollywood]."
Zuidema, Johnson and Borelli all praise Dickerson for being so dedicated to the community. Borelli notes that even before K24 opened its West Hollywood location in February 2012, Dickerson started showing his commitment by cooking hamburgers for the volunteers at LA Pride in June 2011. Then in August 2011, he had K24 staff cooking burgers at the West Hollywood North neighborhood's annual National Night Out gathering.
"David made a good impression even before the restaurant opened by catering those events," says Borelli. "He created a lot of good will and met a lot of people. That's how committed he is to the idea of community."
Zuidema believes that becoming involved with the community six-to-eight months in advance of the West Hollywood Kitchen 24 location opening was a major factor in helping it become successful in a location where no other restaurant had found success.
"David made sure Kitchen 24 was an active participant in the community," says Zuidema, who serves on the West Hollywood Chamber of Commerce board of directors with Dickerson. "He was out there in the community, getting involved, volunteering from the very start. Other business don't always realize how important that is, especially in West Hollywood."
Dickerson explains that being involved in the community is part of K24's marketing strategy, saying simply, "we try to become a part of the fabric of the community."
Combatting Homelessness
Like many people, Dickerson is concerned about the growing homeless population in the West Hollywood area. Yes, the homeless sometimes harass K24 guests sitting on the patio, but he is far more worried about this being a humanitarian crisis.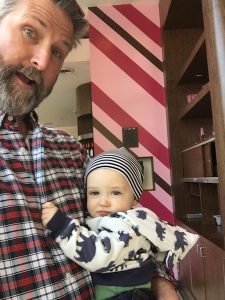 He put his concern into action last year when he joined the WeHo Chamber of Commerce's 16-member Homeless Committee, which is dedicated to finding ways to help the homeless in the area.
"Working with the homeless can be very frustrating," he says. "It's really hard to feel like you're making an impact. You don't usually connect with a homeless person the first time you talk to them. It's usually building that trust over the course of time that allows them to trust you and introduce them to services that can help them. My goal is to find a way to create a connection with one homeless person who I can help get into services. Maybe more."
He's especially pleased the chamber's Homeless Committee is working closely with both the city and the sheriff's department on the crisis.
"Everybody is rowing the boat in the same direction here [in West Hollywood]," he says. "People can talk to each other and work together. The sheriff supports the chamber, the chamber supports the city. We're all working together. In a big city like LA, that's almost impossible, but in a small city like West Hollywood, it can be done."
True to form, when the chamber and the city hosted a Homeless Connect Day in West Hollywood Park earlier this year providing showers, haircuts and information about services for homeless, Dickerson had K24 provide box lunches for the homeless who attended as well as the volunteers who helped out.
New Father
While overseeing two restaurants and working to help the homeless consumes a lot of his time, Dickerson is also busy at home with his ten-month-old son. He and fiancé Katie Stephens, a recent nursing school graduate, are the proud parents of Wixom Thomas Danger Dickerson.
Wixom is from his middle name (a family name), while Thomas is from Katie's father. As for the Danger, well, he chose that because it was so unusual.
"I had to convince my fiancé that [naming their son Danger] was a fun thing to do," he says. "I was reading a book on first time fatherhood and it said, 'Whatever you do, don't do something stupid like name your child Danger.' Well, nobody tells me what to do. Then I got fixated on it. So I would go to Starbucks and try it out. I'd order coffee and they'd ask me what my name was and I'd say, 'Danger.' They'd go 'Naw, not really. Is it?' And I was like, 'No, but it's going to be my son's name.' They were like, 'Oh, that's super cute'."
Kitchen 24
8575 Santa Monica Blvd.
West Hollywood
(424) 777-0959
Weho.kitchen24.info
Click here to subscribe and receive an email every morning showing the previous day's news on WEHOville. You'll be joining the great list of supporters of WEHOville and our effort to provide you with the news you want and need.