Happy 2018 Stoli Key West Cocktail Classic (SKWCC) and may the odds be ever in your favor. The atmosphere was just as intense as it was exhilarating this last Saturday, March 24th at the 2018 SKWCC as it kicked into high gear in West Hollywood on its 14 city tour for the best bartenders to represent their cities.
For anyone who does not know the SKWCC is a partnership with Stoli® Group USA, LLC and the Key West Business Guild, to scour North America's top LGBT and ally Bar Stars to compete to win $20,000 for charity (a portion of which goes to the winner's favorite hometown charity) and to be named the 2018 Stoli Key West Cocktail Classic Champion. February kicked off the return of the one of the largest annual LGBT bartender competition and celebration, the Stoli Key West Cocktail Classic.
Now in its fifth year, the 2018 tour also celebrates the 40th anniversary of the Key West Business Guild, created in 1978. This year's tour will feature $20,000 in prize money for charity (for a total of $55,000 given to date) as well as an expanded Key West Pride Week Finale. In addition to recognizing the talents of the industry's top LGBT bartenders, the Cocktail Classic celebrates the role that gay bars have played as original community centers and safe spaces, and the LGBT and ally bar stars who continue to raise the bar for equality today.
Each bartender will be evaluated on cocktail taste, balance and presentation, as well as his or her personal knowledge, creativity, and theme. This year's theme is "Raising the Bar", which can be interpreted, each competitor, to represent any person, place, or thing that has raised the bar in any way. The finalist from each regional competition will win a seven-day, all-inclusive trip to represent their city during the Key West Pride Week Finale. The first place winner will receive $20,000 for charity, the opportunity to lead the Key West Pride Parade as Honorary Grand Marshall, a victory celebration/charity check presentation at their home bar, and a trip for two to their choice of either Vancouver or San Diego Pride 2018. The first runner up this year receives $5,000 for charity, plus a weeklong Grand Canyon Water Rafting Adventure courtesy of HE Travel, North America's oldest LGBT travel agency.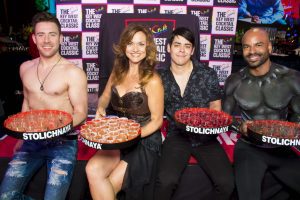 The bartenders that represented Los Angeles were (left to right):
– Tyler Booth from Flaming Saddles

– Tamara Malais from The Abbey Restaurant & Bar
– Stephen Acosta from Rage West Hollywood
– Jon Tantype from Revolver Video Bar
It was a nail biting show from all these amazing bartenders as they had to craft their cocktail recipes and presentations to the theme of "Raising The Bar". They were judged on the taste/presentation of their Stoli Cocktail creations and on there overall presentation with the crowd. The illustrious panel of judges were composed of celebrities Bruce Vilanch and Andrew Christian, also the Key West Ambassador, New Orleans House & Bourbon Street Pub owner Joey Schroeder and finally the 2017 winner of the SKWCC Cory Zwierzynski. The MC's for the day were actor Jay Rodriguez and Stoli National LGBT Ambassador Patrik Gallineaux. There were also special performances from Debbie Holliday and Kimber Chronic.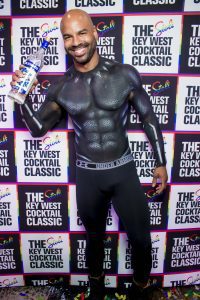 It was an amazing show from our LA bartender representatives, but in a stunning turn of events, for the first time in all five years of this competition, there was a tie from both First and Second place. Coming in second where Tyler Booth and Stephen Acosta and tied for First place were Tamara Malais and Jon Tantype. After a quick five minute show-down between Tamara and Jon making a round of shot from Stoli that had to be different from their original drinks, we had a winner. Congratulations go to Jon Tantype from Revolver Video Bar who will be going on to Key West to represent Los Angles in the finals for the title. For more information about the other winners from the other 13 cities and to keep up to date go to https://www.out.com/KeyWestCocktailClassic for full details.
**Stilo Key West Cocktail Classic event information and images provided by Stoli National LGBT Manager: Patrik Gallineaux,  Global PR manager Alison Walsh and Production Manager Skye.