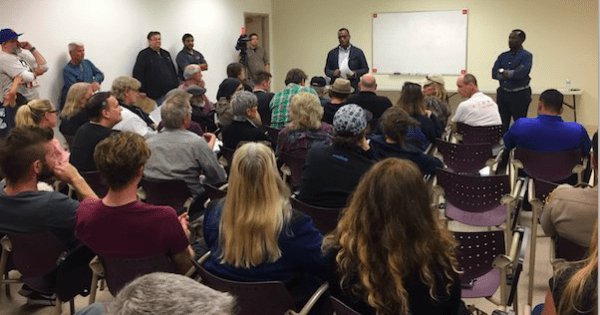 Residents living on West Hollywood's Eastside are worried about their safety and quality of life as the homeless population continues to grow and angry that a homeless encampment continues to exist on Poinsettia Place, between Romaine Street and Willoughby Avenue, just across the border in Los Angeles.
That was the message coming out of an Eastside Neighborhood Watch meeting held on Tuesday night at the Gateway Center (home of the Target store). The anger and frustration was nearly identical to that expressed a week ago at a Melrose Action Neighborhood Watch meeting of people living in Los Angeles north of Melrose Avenue and west of La Brea.
Residents expressed fears about physical violence from homeless people. They cited the March 4 stabbing death of a homeless man on La Brea Avenue at Santa Monica Boulevard (another homeless person has been arrested and charged with that murder), as well as the September 2017 hatchet attack by a homeless man on a shopper at the 7-Eleven convenience store on Santa Monica Boulevard at Hayworth Avenue.
"We're feeling broken and beaten," said Tod Hallman, head of the Eastside Neighborhood Watch.
"We're all on the edge that one of us is going to get our heads bashed in walking on the streets regardless of what city we're living in," said Peter Nichols who lives in Los Angeles on Gardner Avenue and co-founded the Melrose Action Neighborhood Watch. "We're scared. That's what the issue is."
Residents wondered should they carry weapons such as knives, tasers or pepper spray with them when they go out in their neighborhood.
Captain Sergio Aloma, head of the West Hollywood Sheriff's station, told the crowd of about 70 people that everyone has a right to defend himself, but said they should use caution when carrying weapons. He suggested they should ask themselves how proficient they are with that weapon, how often they practice with it and if they are prepared for someone to take that weapon from them and use it against them.
Difficult to Get Rid of the Encampment
Residents wanted to know what they can do about the homeless encampment that has sprung up on Poinsettia Place in the past year and grown to several dozen tents in recent weeks. Aloma explained that encampment is located in Los Angeles (the West Hollywood border is at Romaine Street in that block of Poinsettia Place) and therefore his office has no jurisdiction there.
Robert Oliver, a field deputy for Los Angeles City Councilmember Paul Koretz, who represents the area, reported that Los Angeles and West Hollywood have different rules and approaches for dealing with the homeless.
"We're working with every legal tool to address the encampment on Poinsettia," said Oliver, who reported that the homeless problem is Koretz's top priority.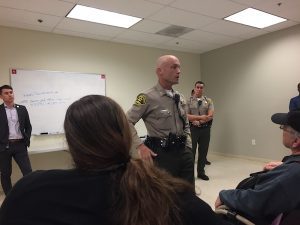 Oliver explained that the City of Los Angeles lost a 2016 lawsuit brought by the American Civil Liberties Union regarding homeless people. As part of the settlement, rules are in place to protect the rights of the homeless that make it difficult to get rid of an encampment.
In Los Angeles, people are allowed to erect tents between the hours of 9 p.m. and 6 a.m. Outside of those hours, Los Angeles Police Department (LAPD) officers can tell people to take the tents down, but they are still allowed to sit on the sidewalk throughout the day.
Under the settlement, an outreach team must approach people living in an encampment three times, offering them access to services, before it can do a clean-up of the area. After that, only employees of the city's Sanitation Bureau can touch a homeless person's personal property and determine what is trash and what must be stored.
"Sweeps" to rid an area of homeless encampments only have short-term effects, and homeless people tend to return within a few days. Last week, Los Angeles crews attempted to conduct such a sweep of the Poinsettia encampment, but rains prevented them from forcing all the people out since the ACLU settlement says they cannot force a homeless person out of a tent into the rain.
West Hollywood, which is not bound by the Los Angeles homeless settlement, does not allow people to erect tents in its city limits. Sheriff's Lt. Edgar Ramirez said WeHo has laws allowing deputies to be more aggressive with the homeless, which is why large encampments do not form within the WeHo city limits.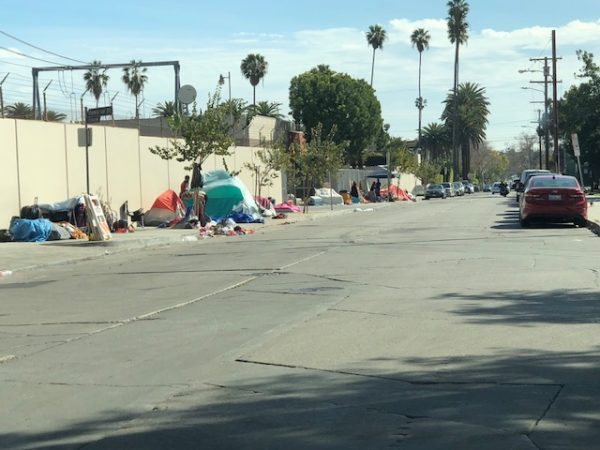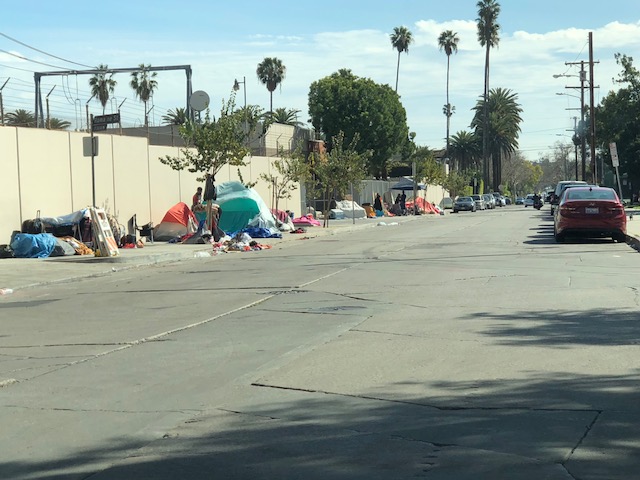 Homelessness Knows No Boundaries
Concerned residents pointed out that while the encampment may be in Los Angeles, but boundaries between the two cities do not make any difference to homeless people who go throughout the neighborhoods of both cities. Of particular concern are car break ins, trespassing on property, taking over empty or abandoned buildings, urinating or defecating in public and leaving used drug needles in yards or on sidewalks.
Aloma said that if people find used needles, they should call the sheriff's station and deputies will come get the needles. He said people should NOT pick up a needle and put it in a trash because people could accidently prick themselves if they plunder through a trash can.
Residents asked about a homeless person found dead of an apparent drug overdose on Tuesday morning in Poinsettia Park. Aloma indicated he had not heard about the death until that moment, reminding people that Poinsettia Park is the LAPD's jurisdiction.
Several residents wondered why the Sheriff's department and LAPD weren't working together to share more information, especially about things that happen just a few feet across the border.
WeHo Councilmember Lauren Meister briefly discussed some of the actions West Hollywood is taking to combat the homeless problem, but residents wanted to know why West Hollywood and Los Angeles were not coordinating their efforts.
"We're all being affected by the transient population one way or another. It's not just the tents, it's the trespassing and encampments and abandoned property. That's happening in West Hollywood [and Los Angeles]," said Peter Nichols. "We're all frustrated, and maybe there's a way cohesively we can try to get together. I don't know if it's a safety summit between [the two cities]."
Meister said West Hollywood is trying to set up such a meeting with Koretz and Los Angeles city officials, but scheduling such a meeting takes time. That answer frustrated many who want quicker action.
Increasing Manpower, Quicker Trash Pickups
Resident Stephanie Harker asked if more manpower would help with safety issues on the Eastside. Aloma replied that increased visibility never hurts.
Meanwhile, David Agner of Block by Block, the private security firm the city employs to do bicycle patrols of the city, said he has about 30 "security ambassadors" working in the city, 12 of whom are now stationed on the Eastside. Agner said his ambassadors on the Eastside were originally assigned just to patrol Santa Monica Boulevard, but now are going into the residential areas as well.
One woman asked if they should take self-defense classes to protect against potential violent attacks by homeless people. Meister told the crowd she would investigate getting the city to sponsor such classes for residents.
Ruben Valenzuela of Athens Services, which contracts to do trash pickup in the city, reported his company had changed some of its policies in response to the homeless situation. Previously, pickups of old bulky items like sofas or mattresses were only done on certain days (usually Fridays). But now, residents can schedule a bulky item pickup any day.
That change was done because they do not want homeless people sleeping on sofas or mattresses left on the greenway beside the street. Athens also does not want to risk someone setting fire to the bulky items.
"If you call and say 'homeless,' we're coming to pick it up," said Valenzuela.
Improved Lighting
Residents asked about improving street lighting to help with safety, either with stronger bulbs or by trimming trees near street lights. Meister told the crowd that the city is in the process of purchasing the street lights from Southern California Edison, a process that has taken several years. Once that purchase is complete, the city can improve the lighting.
Another resident pointed out that the Poinsettia homeless encampment is directly in front of property owned by the Los Angeles Department of Water and Power (DWP). He suggested that if the DWP installed super-bright street lights (as bright as on the Las Vegas Strip) on its property, it might prevent homeless from sleeping and chase them away.
Takeover Poinsettia Park?
Meanwhile, resident Steve Martin, a former member of the West Hollywood City Council, said the City of Los Angeles is not using Poinsettia Park to its full potential. He suggested that the City of West Hollywood apply to take over administration of Poinsettia Park from Los Angeles. Martin noted that Paul Koretz made a similar proposal when he was on the WeHo City Council in the 1990s but nothing ever came of it. Now that Koretz is on the Los Angeles City Council, perhaps he could help make that transfer happen.
Fountain Avenue
Addressing another issue, Councilmember John D'Amico said that improvements are coming to Fountain Avenue in early summer, which should help reduce traffic accidents. D'Amico also said the City Council has reaffirmed that Fountain is a residential street, not a commercial street. By establishing it as a residential street, it is possible the city can lower the speed limit on Fountain from 35 mph to 30 mph, or possibly even lower.
Several residents suggested that another way to improve traffic flow at the intersection of La Brea and Santa Monica Boulevard, would be to install diagonal pedestrian crossings that would be used while all vehicles are stopped, similar to what is at the intersection of Hollywood Boulevard and Highland Avenue in Los Angeles.