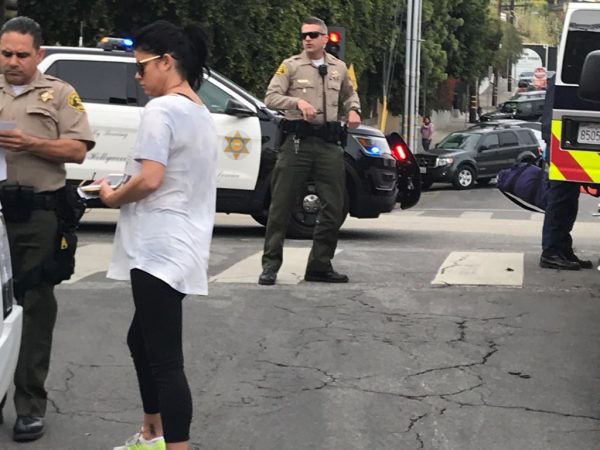 Two cars collided on Fountain Avenue this afternoon at Olive Drive this afternoon, sending on crashing into the fence around a nearby construction zone.
A local resident on the scene said the crash involved a Land Rover which apparently hit a smaller vehicle. The man driving that vehicle was in his early 30s and complained about back and shoulder pains.
West Hollywood Sheriff's deputies and L.A. County Fire Department personnel responded to the crash and closed east bound Fountain  to traffic while they investigated it.
Today's accident is the latest in a recurring number that have drawn complaints from local residents and spurred City Hall to develop a traffic safety plan for the avenue.
It calls a variety of measures focused primarily on the intersections of Fountain with Harper Avenue, Havenhurst Drive, Hayworth Avenue and La Brea Avenue. Those intersections were chosen based on the number of collisions there and the city's ability to implement fixes relatively quickly.
Walter Davis, West Hollywood's neighborhood traffic management program specialist, has said the city also will institute intermediate and longer term measures. They will include efforts to improve the walkability of sidewalks along Fountain, changing some stop lights to give pedestrians priority in crossing the street before cars can move forward, adding more crosswalks with lights signaling that pedestrians are crossing and installing medians or curb bulb-outs that will slow traffic.