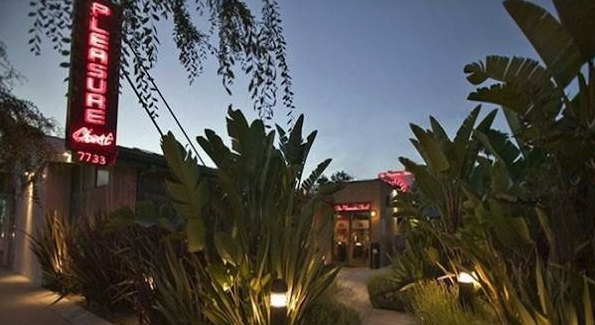 EDITOR'S NOTE: You may have waited tables at Cafe d'Etoile, rearranged clothing on the racks at LASC, managed the front desk at the London West Hollywood, poured drinks at the Den on Sunset, carried luggage at the Mondrian or done security at Craig's. In a town like West Hollywood, any of those jobs is likely to have exposed you to a bit of what celebrity life is all about. But Kasey Leigh Dickerson, the author of this story, was fortunate to have had the opportunity to get a more intimate look at the people the paparazzi stalk with a job at WeHo's version of Toys "R" Us, which he shares in the story below. (Warning: you might not want to share it with the kids).
Ah, the Pleasure Chest. Where else can one go in this town to buy a gold-plated vibrator or a dildo the size of Rhode Island? As an employee of the "sexperts" stores in both West Hollywood and New York City, let me tell you: I've seen some things.
I could go into sordid details of the outer-limit sex lives of the staff, or tell empowering stories of how we dealt with the occasional homophobe, or even tell scandalous tales involving lewd acts in various corners of the store (not that I had any involvement in those stories… ahem), but let's cut to the most intriguing aspect of my three years there: Celebrities.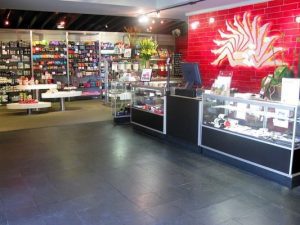 As a native of Los Angeles I have to surprisingly confess that the majority of my celebrity encounters have taken place inside the walls of the Pleasure Chest. And what fun purchases these people make!
Now, I don't want to name names here, but Richard Dreyfuss. Oops, I guess I'm naming names. He and his wife were very friendly when they came in, which was semi-regularly. They had a penchant for vintage '70s porn. Why not? The time I helped them they bought about five steamy classics on DVD, and I made Richard let out a hearty belly laugh. What I said I don't remember, but he thinks I'm funny.
And then there was dear Holland Taylor. All smiles, she was on her way to a birthday party. So she got her friend a Rabbit Pearl vibrator. That was the one that became popular thanks to "Sex and the City." Speaking of, the New York Pleasure Chest is part of the official Sex and the City tour. If you ever took that tour while I was working there, just know that I probably don't like you. But I digress. Holland bought her vibrator and took great interest in the glass toys. I'm not saying you should check them out, but check them out. I wonder if she bought one for her sweetheart Sarah Paulson.
There was also the occasion of Puff Daddy… P. Diddy? Jigglypuff? Whatever. Sean Combs came in. He was a man on a mission! He knew exactly what he was there for and bought roughly $1,000 worth of products if I remember correctly, which included a few leather items. Unfortunately I didn't recognize him in the least so I was very confused when the entire staff rushed me upon his exit, wanting to know everything he bought.
Then there were these two young men who came in looking for cock rings and asked if I could help them try-Oh wait, we're not doing those stories. I forgot. Moving on.
Academy Award-winner Adrien Brody! On this particular day at this particular time he was in the market for a vibrating leopard-print thong. Was it for him to wear? We don't know. But I sincerely hope it was.
One of my favorite encounters brings me back to that gold-plated vibrator as it pertains to Kate Hudson (look away, Goldie!), who was there with her best friend. They were on an apparent outing to heal the wounds of Kate's recent divorce. She bought herself the 24-karat gold vibrator, her friend the silver vibrator, a big stack of porn (she loves her some Rocco) and some smart floral stationery.
We had a policy of always asking for an ID with every credit card purchase and to never let on that we recognized a celebrity. But the poor dear couldn't find her ID to save her life, so I said, "Don't worry about it. We both know it's you." She laughed uncomfortably and jokingly whispered, "Don't tell anyone I have sex." To which her best friend barked, "Oh yeah! Because pictures in magazines of you with your child were the immaculate conception!" Those two are a delight.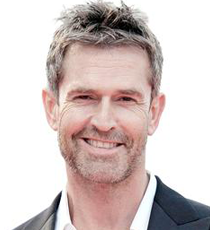 And that, boys and girls, brings me to my definite favorite: Rupert Everett. Oh boy. For someone who came in a number of times to buy myriad items, leading one to think he was getting laid way more than I, he sure was glum to say the least. Every time. Buck up, champ! You were on Broadway with Angela Lansbury! That's awesome! Why the long surgically altered face? You're gonna be okay!
Anyway, one day I'd had enough of his sad vibes in my workplace of sexual frolic. So I rang him up… slowly. Scan one item, slowly put it in the bag. "I like your sweater." Without looking up he mumbled, "Oh, thank you." Scan another item, put it in the bag. "No, but I really like that sweater." Still without looking up (although his eyes flitted from side to side in an obvious moment of discomfort) he said, "Ah, yes, thank you." Scan one more item, put it in the bag. "Let me have your sweater." I stared at him at this point and he finally looked me in the eye. I nodded knowingly and repeated my request. "Just… Yeah, just give me the sweater."
Finally he laughed. I smiled and said, "Sorry, I just wanted to see you smile. That was all." I quickly rang up and bagged the rest of his goods, swiped his card and sent him on his way. He smiled again and thanked me.
Smile more often, Rupert! It suits you! And the same goes to each of you. Especially when you're in the market to buy a little pleasure. Whether you're shopping for a pocket rocket, the rabbit vibrator, the butt plug, the whale cock dildo, the traffic cone-sized plug or the floral-print stationery it's all a-okay. You do you and have a great time doing it, you awesome and kinky wonders you!