Sometimes you've just got to laugh.
The Laugh Factory is giving comedians, and ultimately fans, a chance to do just that with its celebration of President's Day.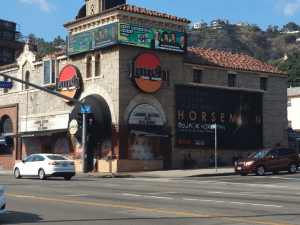 In an announcement today, the comedy club said it "is looking to find the greatest impression of any United States president. Maybe it's President Donald Trump, President Barack Obama, President Bill Clinton, President George Bush, President Ronald Reagan… or even Presidential Hopeful Hillary Clinton (Jimmy Carter impressionist definitely need not apply)."
Contestants are asked to post a two-minute video clip of their impression to YouTube and tweet the link to @TheLaughFactory with the hashtag #LaughFactoryPresidentsDay.
Submissions will be accepted starting today through Feb. 8 at 5 p.m. The winners are chosen by celebrity judges.
Winner No. 1 will receive $1,000 in cash and be invited to perform for one week in a paid gig at the Las Vegas and Hollywood Laugh Factory.
Winner No. 2 will get a $500 cash prize, along with a paid performance at the Hollywood Laugh Factory.
And winner No. 3 will receive a $250 cash prize along with a paid performance at the Long Beach Laugh Factory.
President's Day, which is on the third Monday of February every year, was established in 1879 to honor George Washington, the first president of the United States. Now it is more often referred to as President's Day and considered a day to honor the sitting president, like him or not.
The Laugh Factory Hollywood is a famous WeHo-adjacent comedy club at 8001 Sunset Blvd. that opened in 1979.