(Video by Manny Rodriguez, courtesy of West Hollywood West Residents Assoc.)
"When people say, 'West Hollywood has gone to the dogs,' they mean it!" said Lauren Meister.
"I think today we can finally answer the age-old question, 'Who let the dogs out?' West Hollywood!" said Lindsey Horvath.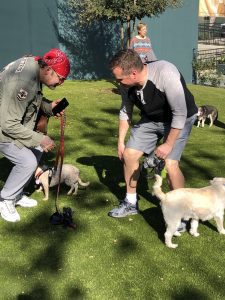 That was how the two West Hollywood City Council members this morning expressed their enthusiasm for the official opening of two off-leash dog parks at West Hollywood Park. They were joined by their fellow council members, dozens of dogs and their guardians, and more than a few children.
The dog parks are part of the second phase of the redevelopment of West Hollywood Park, which began in January and is expected to be completed by 2020. The redevelopment of the eight-acre park is costing roughly $96 million, with the dog parks accounting for $700,000 of that. It includes an aquatic and recreation center with two rooftop swimming pools and a multi-sport court, expanded green spaces, new children's playgrounds and an AIDS Monument. The monument will be next to the already-constructed West Hollywood Library and parking structure, which were completed in 2011 as part of the first phase of the project.
The two off-leash dog parks are on the north end of West Hollywood Park at San Vicente Boulevard. The 4,250-square-foot park for small dogs is on the west side of the park's basketball court. The 7,350-square-foot park for large dogs is on the east side of the basketball court.
Until now, those who wanted to let their dogs run and play unleashed have had to go to William S. Hart Park at 8341 De Longpre Ave. just below Sunset Boulevard. Some residents have objected that that dog park is blanketed with wood chips that their dogs tend to eat.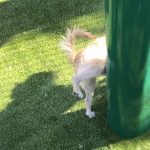 The new dog parks are covered with a lush green artificial grass that West Hollywood Mayor John Heilman assured residents met the highest environmental standards. Each of the fenced-in parks contains water bowls and fountains and a seating area for the guardians, a term the City of West Hollywood began using years ago to refer to dog owners that reflects the city's strong dog-friendly reputation.
The redevelopment plan initially didn't include dog parks. But then-Mayor John D'Amico complained about that at a City Council meeting in 2014. D'Amico noted that the redevelopment plan included play areas for children, of whom there are far fewer than dogs in West Hollywood. D'Amico famously complained about the city's "institutional 'fetishization' of kids…. "We have 400 kids who live in this city, and we have 30,400 adults who have dogs," D'Amico said. Children make up roughly five percent of the city's population of roughly 37,000 people.
Now there are two new dog parks.