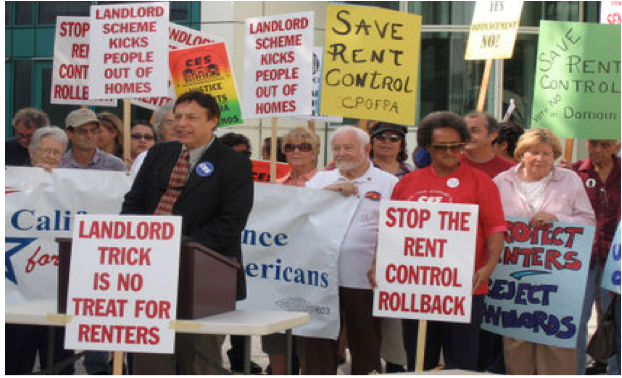 Advocates for repeal of the state's Costa-Hawkins Act are encouraging West Hollywood residents to reach out to members of the California Assembly's Housing and Community Development Committee to express their support for the repeal.
The Costa-Hawkins Rental Housing Act was enacted in 1995 and limits the abilities of California cities to control local rents. The passage of the act had a major impact on the rent control measure adopted by the City of West Hollywood in June 1985, shortly after the city was incorporated in 1984.
That rent control law rolled back rents in WeHo to the level of May 1984 and allowed annual rent increases going forward limited to 75% of the Consumer Price Index. When an apartment was vacated, a landlord could only increase the rent by 15%. And the landlord could increase the rent on a vacated apartment only twice between Jan. 1, 1996, and Dec. 31, 1998.
Costa-Hawkins, named for its sponsors, Sen. Jim Costa (D-Fresno) and Assemblymember Phil Hawkins (R-Bellflower), put a number of restrictions on a city's ability to control rents. Perhaps most important was that it allowed landlords to increase the rent charged for an apartment to the market level rather than the 15% limit stated in West Hollywood's original law. The city still is able to restrict to a percentage of the CPI any rent increase for an existing tenant in apartment buildings built before July 1979. Costa-Hawkins also prohibits rent control on single family homes and any housing with a certificate of occupancy issued after Feb. 1, 1995.
State Assemblymember Richard Bloom (D-District 50), whose district includes West Hollywood, introduced a bill (AB 1506) last year that would repeal the Costa Hawkins Act. The West Hollywood City Council adopted a resolution in support of Bloom's bill.
But last year the bill did not move forward because of strong opposition from real estate interests and was postponed until this year. The first hearing of the new legislative year for the bill will be on Jan. 11 at 9 a.m. at the State Capitol, Room 4202, in Sacramento.
If you would like to contact the Housing and Community Development Committee members to give them your thoughts on Bloom's bill you can email them at the addresses below:
Assemblymember (Chair) David Chiu: assemblymember.chiu@assembly.ca.gov
Assemblymember (Vice Chair) Marc Steinorth: assemblymember.steinorth@assembly.ca.gov
Assemblymember Ed Chau: assemblymember.chau@assembly.ca.gov
Assemblymember Steven Choi: assemblymember.choi@assembly.ca.gov
Assemblymember Todd Gloria: assemblymember.gloria@assembly.ca.gov
Assemblymember Monique Limon: assemblymember.limon@assembly.ca.gov
Assemblymember Jim Wood: assemblymember.wood@assembly.ca.gov